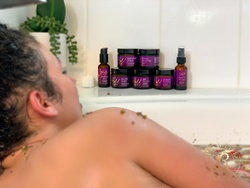 We believe in love, opulence, and diversity.
RALEIGH, N.C. (PRWEB) March 22, 2021
Today, Bold Life Beauty announced the launch of its new website and specially-formulated new products. Bold Life Beauty is a new and exciting zero-waste beauty brand founded by two beauty professionals. Its team is dedicated to providing an indulgent beauty experience without hurting the environment. Its ingredients and packaging have a minimal environmental impact. The company has produced a vibrant and non-comedogenic skincare line. Skin treatments and moisturizers are welcomed after this unexpected last year of stress. Many people stopped following their regular skincare routines, and Bold Life Beauty has answers for skin fatigue with products that feel good and make a difference to all types of skin.
"Bold Life Beauty is the brand for humanity," said co-founder and CEO Anthony Shelton. "We believe in love, opulence, and diversity. Our brand stays centered on the spiritual intimacy between nature and science. We were mindfully inspired, creating Bold Life Beauty for our client's wellbeing and support for the environment. The company's mission is to rejuvenate and enhance the beauty of our consumers who have had an especially tiring year during the COVID-19 pandemic while giving back to help others and the world we all share."
Indeed, people's skin has been dramatically affected by being indoors with stale air during the pandemic. Wearing masks has also caused some people issues like blemishes and redness. Co-founder and creative director Giannina Ngo added, "Our skincare line addresses all sorts of skin issues, and we know you will feel regenerated. We respect the earth and are staying eco-ethical in both the formulation process and in our beautiful packaging. The experience of luxury is the result of research and constant, objective feedback to bring the Bold Life Beauty products to market."
Bold Life Beauty has developed a five-step process of luxurious treatment. It offers cleansers, facial masks, toning, and restoring, along with sumptuous beauty elixirs and moisturizers. Some of these high-end products include Magick Tea Face Mist, Foaming Botanical Cleanser, Detox Moon Cream, Mystic Waterfall Moisturizer, Resurrecting Eye Gel, and Revitalizing Elixir.
Ngo added, "The breathtaking gem tones found in our product line are inspired by nature's geode agates and natural minerals from the earth. The colors are bright and beautiful as the earth has produced these miraculous, natural creations. We appreciate what nature has given us, and we emulate the beauty of the earth to bring joy to our customers."
Bold Life Beauty's makeup products include Gem Dust, Gem Dust Adhesive, Liquid Spotlight, and Trans-Magick Liner. All Bold Life Beauty products are certified cruelty-free, eco-ethical, and luxurious to use.
The company targets luxury beauty and provides a "complete experience" without sacrificing the global impact of which the beauty industry has been guilty for decades. Zero-waste is vital to the brand in saving the planet for the next generation. The brand can provide the utmost luxury expected by educated consumers. Bold Life Beauty is creating a better world and promising future.
Gift cards are available and complimentary shipping for orders over $150. For more information, go to http://www.boldlifebeauty.com/