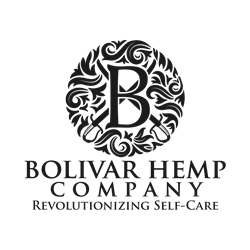 "I really wanted to honor the name and the work that I have done in the hemp space, and also in discovering novel ways towards health and wellness and breaking barriers to obtain them."
DENVER (PRWEB) June 11, 2020
Historically recognized cannabis industry trailblazer and pioneer, Larisa Bolivar, has officially launched Bolivar Hemp Company, a hemp-based lifestyle brand focused on self-care with a line of topical CBD products enriched other key cannabinoids. The company had a soft launch in December of 2018 to test the market and the brand as hemp became legal federally and CBD and other cannabinoids such as CBN and CBG began gaining popularity. The brand emerged with topicals used for massaging muscles and joints, body scrubs and creams, and currently sells farm-to-table hemp products including 1000 mg CBD Muscle Rub and Hemp Relief Balm made from scratch from carefully sourced ingredients and hemp grown and processed by partner and extraction artist, Miley Haines.
Bolivar Hemp Company, a company that uses high-end ingredients with a simple and sophisticated branding unique to hemp, received its official United States Trademark last week on June 2, 2020, which is coincidentally Ms. Bolivar's birthday and 16 years and a day to the date she was raided on June 1, 2004 for legally cultivating medical marijuana. To add to the auspiciousness of the date of the receipt of the trademark, Hemp History Week began on June 3rd. Of the coincidence, Ms. Bolivar says:
"The raid and subsequent police harassment left me severely traumatized. I began to dread my birthday because I start to get triggered as June 1st approaches." She recalls, and then adds, "This marked a turning point towards healing, and I can once again look forward to birthdays and now actually celebrate two 'born on dates!' In all seriousness, God answers prayers and really does give us signs. That is certain and cannabis has shown me that time and time again."
The Bolivar name is rooted in revolutionary history with Simon Bolivar being the person who liberated most of Latin American from Spain and endeavored to create a Republic in Latin America like the United States. While not the same type of revolution, Ms. Bolivar is strongly committed to personal liberty and sees the War on Drugs as the largest global violation of civil rights that has wreaked havoc in both Americas and has worked tirelessly in helping to repair the harms of the drug war through social equity and mentorship and employment of disadvantaged adults. She wanted to embody the revolutionary spirit of cannabis reform in the Bolivar Hemp Company Brand while honoring the revolutionary history of the name, down to the swords in the emblem. Simon Bolivar's sword was famously and ironically shown in the Netflix series Narcos, however it is most known as a revered symbol of revolution in Latin America.
"My father once told me, 'Nos Bolivars, somos hermanos (Us Bolivars are brothers),' and it was not lost on me the importance of the name itself and the work I do in not only creating a brand around the name, but in everything I do, including fighting for social justice and freedom." Ms. Bolivar explains, and continues, "I really wanted to honor the name and the work that I have done in the hemp space, and also in discovering novel ways towards health and wellness and breaking barriers to obtain them."
Ms. Bolivar herself has a long history in cannabis activism having picked up the mantel of fighting for hemp and marijuana in 2001. She read The Emperor Wears No Clothes by Jack Herer and immediately joined the legalization movement first as a medical marijuana caregiver and dispensary owner/cultivator pre-regulations, and then worked as a consultant in the space while studying the emerging industry for her Masters in Public Policy from Regis University where she concentrated on cannabis policy reform graduating in 2015 with honors.
Bolivar Hemp Company recently moved into a new lab space in the historic building that once housed The Grow Store and will be releasing more CBD products in the next few months after over a year of self-funded research and development. The company has three partners and is primarily self-funded having received a small amount of seed funding from friends and family. The company plans on raising more capital and has been building a loyal customer base and steady sales since the soft launch in December 2018.
The company decided to withhold the news of the trademark which was awarded last week to pay respect to George Floyd. Bolivar Hemp Company and its founder are 100% committed to the Black Lives Matters movement with a record working on social justice efforts. With that said, 2.5% of all sales will be donated to causes committed to ending racism and hate in the United States and towards criminal justice reform.
For more information on Bolivar Hemp Company please visit http://www.bolivarhemp.com, or call Larisa Bolivar directly at 703-244-4857.