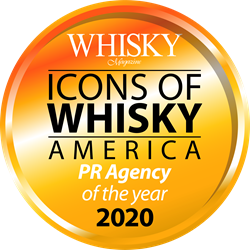 DALLAS (PRWEB) February 18, 2020
Bolt PR, a national, independent public relations, digital marketing, events and crisis communications firm, was recognized as the 2020 PR Agency of the Year by Whisky Magazine at its annual Icons of Whisky America awards this week. Since 2018, Bolt PR has been the agency of record for Balcones Distilling, now Texas' fastest growing whisky brand with featured expressions that include Texas Single Malt, Baby Blue, Texas Pot Still Bourbon, and more. Balcones Distilling also took home awards that included:

Brand Innovator of the Year
Bar Manager of the Year, Andrew Anderson
Single Malt 12 Years & Under Category Winner: Balcones FR.OAK and Balcones Peated Texas Single Malt
The Icons of Whisky Awards America were presented as part of the Whisky Magazine Awards New York, held at The Flatiron Room. Winners from the Icons of Whisky America and World Whiskies Awards 2020 will now go head-to-head with their contemporaries from across the globe for the global title, presented in London in March 2020.
Bolt PR is trusted by leading and emerging brands, with a client roster that includes food and spirits brands; hotel properties; health, wellness and beauty brands; global leaders in consumer products; nonprofits; financial institutions; national franchises; major event production companies; leaders in healthcare technology; national retail chains; and many of the country's largest and fastest-growing brands.
About Bolt Public Relations
Founded in 2007, Bolt Public Relations is an independently owned, award-winning public relations, digital marketing, events and crisis communications firm. Bolt PR represents brands across a wide range of industries, including consumer products, education, entertainment, dining and hospitality, fashion, fitness, health care, nonprofit, real estate and technology. The agency's core services include media relations, digital and social media marketing, event planning and publicity, community relations and crisis communications. Bolt PR has offices in Costa Mesa, California; Dallas, Texas; Pittsburgh, Pennsylvania; and Raleigh, North Carolina. For more information about the agency, visit boltpr.com.