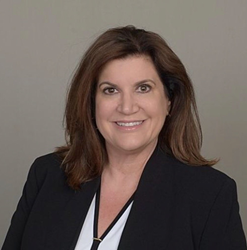 ANNAPOLIS, Md. (PRWEB) September 18, 2019
BOMI International, the Independent Institute for Property and Facility Management Education, is pleased to announce the hiring of Sarah Graf as business development manager, representing the Western United States.
Graf has an extensive background in real estate, training and account management. For the past eight years, Graf served as national account executive at NTT Training, where she provided consultative training solutions for Fortune 500 companies within the oil & gas, large manufacturing, facilities and property management industries. Sarah's customer-focused approach and attention to her client's needs earned her several top producer and service recognition awards. Prior to NTT Training, Sarah served as a Realtor with ERA Titletown Realtors.
"Sarah has a deep understanding of the marketplace, and what property and facility companies need to thrive in a competitive marketplace," said Krissi Magistro, BOMI International's sales and marketing director. "Her vast experience in the real-estate industry and her training background are qualities our customers value."
As business development manager for the western territory, Sarah will develop a regional strategy and support initiatives for client management and acquisition in Arizona, California, Colorado, Idaho, Minnesota, Montana, Nevada, New Mexico, Oregon, Utah, Washington and Wyoming.
"I am looking forward to representing BOMI International and working with our clients to achieve their professional goals," stated Graf. "I understand and value the importance of training and education. You might say the industry runs in the family. In addition to my personal experience, my daughter is a real estate manager with CBRE in Denver, CO, and my son is in facility maintenance with NAI Pfefferle in Appleton, WI," she added.
To contact Sarah Graf, please email sgraf@bomi.org or call 720-275-0776.
About BOMI International
BOMI International, a nonprofit educational organization founded in 1970, provides critical education and expertise to industry personnel with property, facility, and building systems management responsibilities. As the Independent Institute for Property and Facility Management Education, BOMI International delivers courses, certificate programs, and industry-standard designations—Real Property Administrator (RPA®), Facilities Management Administrator (FMA®), Systems Maintenance Administrator (SMA®), Systems Maintenance Technician (SMT®), and the High-Performance Sustainable Building designation program (BOMI-HP®)—with a proven record of increasing job performance and company efficiency. More than 28,000 industry professionals hold one or more of BOMI International's credential, and more than 95,000 property and facility management professionals have turned to BOMI International for their continuing education, professional development, and staff training needs. To learn more, please visit http://www.bomi.org, call 1.800.235.BOMI (2664), or email service@bomi.org.