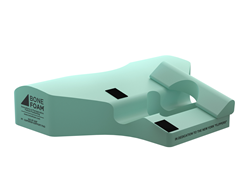 CORCORAN, Minn. (PRWEB) July 01, 2020
Studies out of Wuhan, China previously demonstrated that lying in the prone position has been associated with improved oxygenation in intubated patients. A more recent study out of New York City has demonstrated that prone positioning in awake, non-intubated patients improved blood oxygenation up to 34% which has reduced the need to intubate many of these patients.
As the number of COVID-19 cases increased throughout the country, ventilators became scarce and ICU availability reached capacity. In response, Bone Foam Inc. partnered with an orthopaedic surgeon out of Lennox Hill Hospital in New York, the epicenter of the pandemic at the time, to develop a low-cost solution to aide patients, pulmonologists, and all ICU intensivists in managing complex positioning challenges.
With elective orthopaedic surgeries delayed and hospital staff being overran due to the influx of COVID-19 patients, the Chief of Orthopaedics at Rothman in New York City, was looking for ways to help. The Orthopaedic Residency program repurposed into "Prone Flippers" at the peak of the outbreak and assisted with management of intubated patients afflicted with pneumonia and ARDS due to COVID-19. Together with Bone Foam Inc., they developed the "Prone Foam – Superior Support Pad" to help with management and positioning of these patients in effort to reduce ventilator-induced lung injuries and mortality rates. The design is ideal for patients on a ventilator or those utilizing high-volume oxygen masks as well as those suffering from ARDS, Cystic Fibrosis, and Obstructive Sleep Apnea. Using "Prone Foam" to position patients can improve pulmonary function, blood oxygenation, and help break up thick mucus in the lungs.
Even those who have been diagnosed with COVID-19 and have not been intubated can benefit from improved blood oxygenation by using the Superior Support Pad and lying in the prone position. Early awake "proning" has been shown in a consecutive series out of New York City to successfully avoid intubation in 64% of hospitalized COVID-19 positive patients.
In recognition of their collaboration, Bone Foam dedicated the Superior Support Pad to the brave and repurposed "Prone Flippers" of the Lennox Hill Orthopaedic Residency program.
About Bone Foam
Bone Foam Inc. is an orthopaedic industry leader in medical grade foam positioners that are utilized in hospitals, clinics, and surgery centers around the world. Bone Foam is focused on discovering and developing innovations in patient positioning that are mutually beneficial to surgeons, medical staff, and patients. During these ambivalent times, Bone Foam has been allocating resources to support the positioning needs of COVID-19 patients.
References
1. https://www.thoracic.org/about/newsroom/press-releases/journal/2020/wuhan-study-is-first-to-describe-how-body-positioning-can-improve-breathing-in-severe-covid-19-patients-requiring-entilation.php
2. https://jamanetwork.com/journals/jamainternalmedicine/fullarticle/2767575
3. https://journals.lww.com/jbjsjournal/Documents/P-Final_Rahman.pdf
4. https://onlinelibrary.wiley.com/doi/full/10.1111/acem.13994