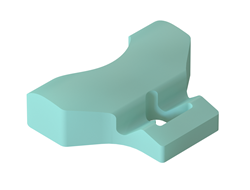 Without Prone Foam, we struggled with proper offloading, facial support and endotracheal tube clearance, perceived comfort of the patient, and DTPIs (Deep Tissue Pressure Injuries)
CORCORAN, Minn. (PRWEB) December 07, 2020
The recent surge of COVID-19 cases has pushed hospitals on the local and national scale to the brink of staffing and capacity crises. The Star Tribune (St. Paul, MN) reported that Allina Health, CentraCare, and Mayo Clinic systems were absent more than 3,000 healthcare workers last week due to COVID-19 exposure or infection. Meanwhile, most hospitals in the Twin Cities such as Regions Hospital are reported to be at 115% capacity. The resource intensiveness of treating COVID-19 patients is well documented, and with ICU numbers skyrocketing, so is the physical demand for those left on the front lines – this is especially true when "proning" patients.
There is mounting evidence that rotating patients from their back (supine position) to their stomach (prone position) helps optimize pulmonary mechanics. By repositioning patients from the supine to prone position, thick secretions are kept from collecting and clogging inside the lungs. This practice improves blood oxygenation and mitigates or even prevents time spent on the ventilator. Many facilities prone patients for up to 16 hours while making around-the-clock adjustments to the head and arms, and although proning has yielded positive outcomes for patients, it has created significant workload for hospital staff.
More often than not, COVID-19 patients in the ICU are high-risk, high-BMI, and chock-full of pre-existing risk factors. Proning a patient of this profile twice daily requires multiple staff members to lift and rotate the sedated patient and safely re-position them in a way that mitigates the risk of pressure sores, a complication particular to elderly patients and those suffering from diabetes. Previously, teams of six to nine caregivers would collectively carry out proning protocol; now, with increased patient demand and diminished caregiver supply, proning teams are left to do far more with less. This perfect storm led Bone Foam Inc. to innovate a way to address positioning challenges in COVID-19 patients in a way that reduces the likelihood of pressure injuries and disburdens under-staffed ICU teams.
Now, numerous ICUs around the country have turned to Prone Foam to protect their at-risk patients and offload their staff. Prone Foam is a novel product that has helped depleted hospital staff safely and efficiently position COVID-19 patients. With ICUs overrun, additional rooms and beds have been repurposed to support patients suffering from COVID-19. This requires additional maneuvering and repositioning by hospital staff, unpredictable makeshift bumps/supports, and an increase in subsequent pressure-related injuries to the patient.
Early adopters across the country have praised Prone Foam and experienced significant improvements in their management of these complex patients. Jana Belisle (Grand Rapids, MI), a Clinical Nurse Specialist in Critical Care, describes a few of the many challenges associated with positioning COVID-19 patients, "Without Prone Foam, we struggled with proper offloading, facial support and endotracheal tube clearance, perceived comfort of the patient, and DTPIs (Deep Tissue Pressure Injuries)". Jana and her staff have been using Prone Foam to position COVID-19 patients as well as those suffering from ARDS. "(Prone Foam) has simplified our proning efforts. Respiratory Therapists love how it accommodates the endotracheal tube and we have seen a decrease in our facial pressure injuries".
Patient safety continues to be on the forefront of all caregivers' minds, and rightfully so. However, with a recent surge of COVID-19 cases, Bone Foam has developed a way to support not only patients, but also our brave frontline workers who are confronting the virus head on. Prone Foam offers a low-cost solution to aid patients, respiratory therapists, and all ICU staff in managing complex positioning challenges.
Bone Foam Inc. is an orthopaedic industry leader in medical grade foam positioners that are utilized in hospitals, clinics, and surgery centers around the world. Bone Foam is focused on discovering and developing innovations in patient positioning that are mutually beneficial to surgeons, medical staff, and patients. During these ambivalent times, Bone Foam has continued allocating resources to support the positioning needs of COVID-19 patients.