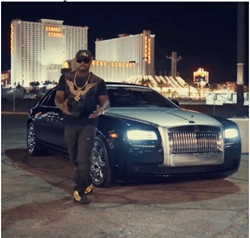 (PRWEB) July 27, 2018
Michael Gilburd, CEO of Boink Live Streaming Corp. http://www.boinklive.com, announced today that popular rapper Young Buck will be using Bonk Be.Live to keep his fans updated.
Recently on July 3, 2018 Young Buck released 10 Plugs a mixtape laced with 10 songs. This new work is a follow up to 10 Street Commandments featuring guest appearances from Boosie Badazz, Tray 8, Oskie and 2GunNut. The mixtape has songs like "Too Rich", "Stay The Same", and "Narcos". The entire mixtape is available on ITunes.
Young Buck is a former member of the hip-hop group UTP Playas. As a music executive, he heads his own record label, Cashville Records, and is currently a member of the hip hop group G-Unit. After being dismissed from the group back in 2008, Young Buck reunited with his former group members on June 1, 2014, at Hot97's Summer Jam event.
Around the age of 12, Brown began rapping. A few years later, he performed for Brian "Baby" Williams, co-founder of Cash Money. After several years on and off of Cash Money, Brown and fellow rapper Juvenile decided to leave the label for good in 2000 and go to UTP, where Brown stayed until 2003.
One of his early appearances was on the song "Memphis," where he was featured along with Three 6 Mafia, Project Pat and other southern rappers. His deal with UTP later led to a meeting with New York rapper 50 Cent, who later signed him to G-Unit Records, under Interscope.
"Our VP of Corporate Development, Sean Green, who is the lead in our Sports & Entertainment division, having specialized in this sector for more than twentyyears, is excellent at introducing and working alongside entertainers and athletes for their use of our Bonk Be.Live app" stated Michael Gilburd, CEO. Working with Sean, his long-time colleague at American Express, Gilburd believes there will be several more entertainers and athletes who will seek to send their messages through the new version of Bonk Be.Live.
About Bonk Be.Live
Bonk Be.Live is a tool for broadcasting live-streaming videos and watching others perform. With Bonk Be.Live you can log in with a phone number, Facebook account, or Instagram account. Bonk Be.Live is the best App for Superstars, Performers and Aspiring Stars who want to keep their fans updated. Bonk Be.Live Star Broadcasters interact with fans worldwide. Professional Athletes, Singers, Dancers, Motion Picture Stars, Famous DJs, Rappers, YouTube celebrities, and Facebook top influencers, all can connect to millions of fans, while new broadcasters have fun online endeavoring to become the next Bonk Be.Live star!