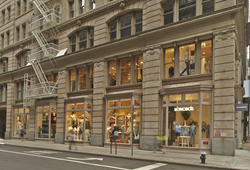 In BeProduct, we found a solution that was sleek, simple, and provided everything we needed in an intuitive, usable environment - with an interface that allowed people with all sorts of different perspectives to work together.
NEW YORK (PRWEB) March 05, 2019
Digitally-native menswear brand Bonobos has completed its implementation of an intuitive, collaborative Product Lifecycle Management ("PLM") platform from fashion technology house BeProduct – in partnership with digital innovation firm STYCHECO ('Stitch-Co').
Following a detailed selection process and a smooth, on-schedule deployment, Bonobos now has teams using BeProduct at its Manhattan headquarters, managing essential design, development, and sourcing processes in a single solution. Envisioned as an enduring partnership, Bonobos already has plans to extend BeProduct into its international supply chain, and to integrate the platform to other enterprise solutions with the help of BeProduct and STYCHECO's technical experts and training teams.
Founded in New York in 2007, Bonobos has kept all key operations in the city despite significant domestic growth and the need to manage a complex supply chain overseas. Catering to a discerning clientele of men in the 25 to 45 age bracket, Bonobos sells well-fitted apparel and accessories direct to consumer through its wholly-owned channels - including the innovative "guideshop" experience stores – as well as reaching customers through wholesale relationships with cornerstone retailers like Nordstrom.
The partnership began when Bonobos set out to find an alternative to traditional, over-complex PLM, as Oliver Thiess-Helden, Senior Director of Technical Design, explains:
"We were looking for a platform that gave us all the functionality of a PLM system, but that didn't force us to use the same processes those systems do. In BeProduct, we found a solution that was sleek, simple, and provided everything we needed in an intuitive, usable environment - with an interface that allowed people with all sorts of different perspectives to work together."
BeProduct's ease of use was also key to a successful user adoption process. "The STYCHECO team have been terrific, helping the whole process to flow easily, from implementation to training," adds Thiess-Helden. "Usually PLM implementers try to concentrate their training into a single block, but it's next to impossible for busy product teams to take a week out of work, so STYCHECO portioned out our sessions and gave us the confidence and support to experiment and find our feet. From ease of onboarding to just how intuitive the solution is to use, going live was as painless as possible, and we foresee a long-lasting partnership with both STYCHECO and BeProduct."
Speaking about possibilities for the future, BeProduct CEO Daniel Pak said: "We're excited to be working with a pioneering, digitally-native vertical brand like Bonobos, and I'm thrilled to see them already benefitting from mobile integration, Adobe Illustrator integration and other efficiency tools. I believe the future is also bright, and we look forward to working with Bonobos for years to come on building the architecture that will connect their other systems, and constantly evolving our own platform to meet their needs."
About BeProduct (http://www.beproduct.com)
Built by the brains behind some of fashion's biggest technology install bases, BeProduct helps brands and retailers inhabit the things they make. Every sketch; every stitch; every step of design and development. Headquartered in New York City, hosted on the cloud and designed with collaboration at its heart, our PLM solution is uniquely flexible and as full-featured as market leaders', with none of the big enterprise bloat.
Sidestep the false choice between implementing off-the-shelf solutions or custom-building at huge cost. BeProduct is PLM done differently.
About Bonobos (http://www.bonobos.com)
Launched online in 2007, Bonobos is a men's clothing brand known for pioneering the digitally-native vertical brand movement by offering exceptional-fitting menswear and a personalized approach to service. In 2011, Bonobos ushered in the innovative offline concept, launching Bonobos Guideshops, e-commerce stores that deliver personalized, one-to-one service to those wanting to experience the brand in person. In 2012, Bonobos expanded its distribution partnering with Nordstrom, bringing Bonobos apparel into all 118-doors nationwide and to Nordstrom.com. In 2017, Bonobos was acquired by Walmart for $310 million.
About Stycheco (http://www.stycheco.com)
A digital transformation practice with over 20 years' experience working with retail and lifestyle brands, StycheCo sits at the intersection of product development and technology. Working with brand owners, C-level executives, and IT resources, STYCHECO places a special emphasis on aligning and scaling the digital and physical value chains. We also partner with various private equity and capital venture firms to improve the productivity, technology adoption and scalability of the different teams that make up their brand portfolios.
BeProduct is a registered trademark of Wink Software. All other brands and product names may be trademarks of their respective owners.