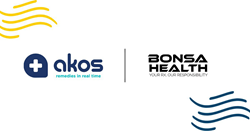 For your safety and convenience, bringing the provider to you with free same-day prescription delivery.
PHOENIX (PRWEB) March 24, 2020
Bonsa Health, a leading online-based pharmaceutical provider, proudly announces that it will be working with Akos, maker of an inventive telehealth app for accessing healthcare services via smartphone or tablet, to provide patients with an exciting new way to fill their prescriptions.
As described on the company's website, the Akos platform is built on a virtual telemedicine framework, which allows users to engage in "face-to-face" consultations with board-certified physicians and nurse practitioners free from the typical hassles—and now, of course, the risks of coronavirus transmission—associated with a physical visit.
"That advantage, while substantial, only pertained to the first part of the transaction," explained Akos Founder and Board Chairman, Kishlay Anand MD, MS., who spoke of the increasing need to avoid potential COVID-19 exposure whenever and wherever possible.
"Formerly, Akos telehealth patients had to pick-up their medications at neighboring pharmacies in-person after they had been ordered," Anand said. "Now, by virtue of our partnership with Bonsa, they can enjoy the safety and convenience of having their medications delivered direct-to-home at no additional cost."
He also acknowledged the partnership may also have correlating benefits in terms of drug adherence rates and in subsequent improvements in patient outcomes.
Reinforcing that message, Bonsa Health Chief Operations Officer John Asfour, said the decision to join forces with Akos was easy one, particularly given that both organizations share the same goals in common.
"At Bonsa, we strive to make the lives of our customers better at every touchpoint, so it stands to reason that eliminating the need to physically travel to the doctor's office or pharmacy has merit in any circumstance, much less in the remarkable scenario we're all living through," Asfour said. "In partnership with Akos, we're fulfilling a unique responsibility in bringing the provider to you and the prescription to your front door with free same-day delivery."
Akos provides virtual medicine via a home care app, called Akos, available to download on Google Play and iTunes. Twenty-four hours a day, seven days a week, the app allows patients to connect with a board-certified healthcare provider via a mobile device, while staying in the safety and comfort of their home.
For those without access to a mobile device or those needing more thorough medical diagnostics, Akos also has 14 Med Clinics located inside Safeway stores throughout Arizona and Idaho. With no appointment necessary, these clinics provide a virtual connection to a healthcare provider via artificial intelligence. The visits are comprehensive including vitals and labs, but brief and allow patients to be in a room with just a medical assistant and a kiosk, limiting exposure to others.
Only non-emergent conditions may be treated through Akos, but those conditions include a vast scope of medical concerns, ranging from simple colds and coughs, rashes, and sprains to more complex conditions, requiring prescription medications.
Akos accepts most commercial healthcare plans and also has affordable pricing for those without insurance. Akos offers an introductory rate of $49 for new self-pay patients and $75 for any subsequent consultation.
No commutes, hidden costs, surprise charges, or waiting rooms involved—all remedies in real time—the point where modern medicine and modern convenience meet.
"That's a breath of fresh air, especially when it means breathing a little easier in the comfort of home, while we are all being encouraged to keep our social distance," Anand said. "A medical app that takes care of you so you can take care of everything else."
Even better that the Akos app is "always on call," concluded Asfour.
For further details or to download the Akos app, visit akosmd.com. Arizona customers, to find the closest Akos Med Clinic or Akos Urgent Care Center near you, log on to https://akosmd.com/locations/.
To learn more about Bonsa Health@ bonsahealth.com.
Follow us on linkedin https://www.linkedin.com/company/64251528/admin/
###
About Akos. Developed by a team of leading physicians in Phoenix, Arizona, Akos launched its revolutionary telehealth platform in 2016. Akos powers a new type of virtual practice, offering a fully integrated HIPAA-compliant healthcare solution for patients, physicians, employers and medical centers across the United States. By combining smart technology, seamless design, a patient-centric approach, grassroots strategy, and the collective power of a preferred provider network, Akos is reinventing the healthcare delivery model one virtual call at a time. Available 24/7/365 days a year, patients can get unparalleled access to board-certified physicians in their area via a smartphone or tablet. For more information or to download our app, visit http://www.AkosMD.com.
About Bonsa Health. Bonsa Health was designed to put patients at the center of the healthcare circle, giving them the ability to make better, more affordable prescription refill decisions. Built on a brand-new, technologically advanced "hub-style" framework, Bonsa operates at the intersection among medication manufacturers, prescribing physicians, and independent pharmacists to ensure that customers receive the medications they need at the most competitive prices available. Many Bonsa prescriptions qualify for free delivery via ScriptDrop within 3-hours of order placement. Learn more at http://www.bonsahealth.com.