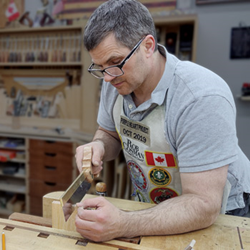 Woodcraft is pleased to offer this opportunity to learn with Rob Cosman, a talented professional woodworker.
PARKERSBURG, W. Va. (PRWEB) February 27, 2023
Woodcraft is once again partnering with Rob Cosman, renowned Canadian fine woodworker and hand-tool expert, to offer a bonus to customers who purchase WoodRiver® hand planes – a free three-month subscription to Cosman's Online Workshops.
WoodRiver® Bench Planes and Block Planes are built with heavy-duty stress-relieved iron castings, high carbon steel blades and other features that make them user-friendly, including lightly finished hardwood handles. Quality WoodRiver® Specialty Planes are also available.
"Woodcraft is pleased to offer this opportunity to learn with Rob Cosman, a talented professional woodworker and also founder of the Purple Heart Project that helps wounded Veterans through woodworking," Woodcraft President and CEO Jack Bigger said.
WoodRiver Hand Planes now include an insert that provides the buyer with a code and instructions to sign up for the Rob Cosman All-in-One Workshop. The All-in-One Workshop is combination of two workshops that offer current projects being built using both hand and power tools, including new episodes, plus access to projects built using hand-tool techniques and to past projects.
Describing his approach to the online workshops, Cosman said, "We try to make the experience like the person is standing right there. The audience likes our casual approach – we don't cut anything – we work through the mistakes."
From furnituremaker to tool designer and instructor
Cosman is a hand-tool woodworking instructor, tool designer and maker, and furnituremaker, who has been involved in woodworking since he was about 5 years old, the son of a shop teacher turned carpenter/contractor. He received professional training with Dale Nish and earned a BS degree in industrial technology/furniture design at Brigham Young University in Provo, Utah, and worked with many renowned woodworkers, including Tage Frid, Alan Peters, and Sam Maloof.
After building custom furniture for 12 years, Cosman became a sales representative for a premier hand tool company and realized that his hand-tool customers didn't know how to sharpen, use, or maintain their tools. He started holding hand-tool instruction seminars and began making and selling the modified and uniquely designed tools he was using for demonstrations that attendees wanted.
Soon the demand for his teaching seminars outpaced his hand-tool sales and led to the launch of Rob Cosman Woodworking, Inc., a small family-owned business located in Grand Bay, New Brunswick, Canada. Today the business includes designing, manufacturing, and selling Cosman brand woodworking hand tools and teaching both hand-tool and power-tool woodworking through classes, videos, and online workshops.
Purple Heart Project
In 2016, Cosman launched the Purple Heart Project (PHP) to introduce Wounded Warriors that were physically and mentally wounded in combat and are still suffering its negative effects to the joy and peace that can be found through the therapy of hand-tool woodworking. Woodcraft supports this program, which annually awards 42 wounded Veterans a PHP Scholarship that provides an all-expenses paid trip to Cosman's shop for one of his six intensive six-day workshops.
To learn more about Cosman and this Woodcraft Special Offer, visit https://www.woodcraft.com/pages/robcosman-training-offer.
For more information about Woodcraft, please contact the store nearest you, visit woodcraft.com or call (800) 535-4482. To learn about Woodcraft franchise opportunities, visit woodcraftfranchise.com or email woodcraftfranchise@woodcraft.com.