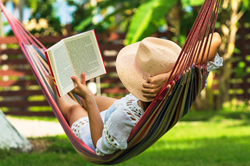 Year after year, we keep coming back to Book of the Month Club as our favorite resource for getting fun new reads from one month to the next
OVERLAND PARK, Kan. (PRWEB) December 09, 2020
TopConsumerReviews.com once again recognized Book of the Month Club as the preferred choice among online Book Clubs, continuing the company's best-in-class track record among comparable services.
During difficult times, people often turn to books: as a welcome escape, a learning tool to master new skills, or even as part of a discussion group with other bibliophiles in person or online. After all, there's nothing quite like the feeling of cracking open a new book, turning the pages, and diving into a new world. However, with so many local bookstores going out of business over the last decade, getting print copies of today's bestsellers or old classics isn't as easy as it used to be. Fortunately, there are several online Book Clubs that still deliver that unparalleled reading experience - with all of today's conveniences like one-click ordering and to-the-doorstep delivery.
"Year after year, we keep coming back to Book of the Month Club as our favorite resource for getting fun new reads from one month to the next," affirmed Brian Dolezal of TopConsumerReviews.com, LLC. "Although this Book Club has been around for almost a century, there's nothing outdated about their service: five books are selected by a panel of readers, editors, and even celebrity judges, and subscribers can use the provided spoiler-free summaries to choose which book they'd like to receive. And, if there's more than one that catches their eye, they can always add an extra book for just $9.99. Membership plans range from three to twelve months, and there's a lively online discussion group for each title they send: it's like having a book club meeting right on your computer! Book of the Month Club continues to enjoy a very positive reputation among their large group of loyal members, and we're pleased to give them yet another first-place ranking among Book Clubs in 2020."
To find out more about Book of the Month Club and other Book Clubs, including reviews and comparison rankings, please visit the Book Clubs category of TopConsumerReviews.com at https://www.topconsumerreviews.com/best-book-clubs/.
About Book of the Month Club
Celebrating more than 90 years of literary heritage, Book-of-the-Month has shipped more than 750 million books to its members. Direct Brands, the parent company of Book-of-the-Month Club is the largest direct-to-consumer club network for books, DVDs and recorded music in the U.S. The company serves more than 8 million members in the U.S. through its various club catalogs and online properties.
About TopConsumerReviews.com
TopConsumerReviews.com, LLC is a leading provider of reviews and rankings for thousands of consumer products and services. From Book Clubs to Coffee Clubs and Canvas Prints, TopConsumerReviews.com delivers in-depth product evaluations in order to make purchasing decisions easier.