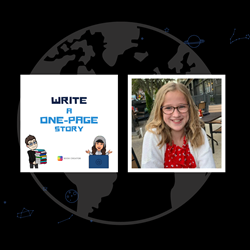 NEW YORK (PRWEB) May 24, 2021
And the winner is Cate Cole, age 11 from Marblehead, Massachusetts in the United States, who won 1st Prize for her powerful short story, As Flames Rise.
The Book Creator global competition, Write a Story in One Page, targeted youth aged 11-18. Book Creator, in association with Planet Classroom Network, came up with a challenge that would work easily for young people across the world, in any language. Youth were asked to create a 1-page story book (with a cover illustration) which they had to read aloud.
"The results were amazing," says C.M. Rubin, Co-founder of the Planet Classroom Network. Clearly, great tech along with great teachers as mentors are enabling kids to be more creative and imaginative than ever. Over 480 stories by young people were received during the pandemic from 25 countries including Guatemala, Thailand, Poland, and Egypt."
"Thank you to Planet Classroom for working with us to help create a global audience for these young authors. We were blown away with the quality (and quantity!) of the entries to our competition. We are thrilled to be able to showcase such diverse talent from around the world. Thank you to everyone who entered!"
Cate Cole's winning entry, As Flames Rise, is an edge of your seat short story about how a crisis can change our lives in a second. Told from the POV of her story's main character, a lone wolf, animals surrounded by a ferocious forest fire work together to overcome their fear and survive.
Read the Full Story here
Visit the Planet Classroom Network YouTube channel
Contact Information:
David Wine
David(at)cmrubinworld(dot)com
About Book Creator
Book Creator launched September 2011. From day one, teachers started using it in their classrooms, praising its simplicity and suggesting ways it could be improved. Since then the company hasn't looked back. Book Creator has reached no.1 on the iTunes App Store in 90+ countries. Over 100 million ebooks have been created with our app worldwide. It's one of the essential apps for schools using iPads. In 2017 the app expanded further, launching out in the Chrome browser and finding a new audience among Chromebook schools and those not using iPads. The web version of Book Creator continues to grow and push the boundaries of creativity in technology.
About The Planet Classroom Network
The Planet Classroom Network, organized by CMRubinWorld, brings together musicians, dancers, video game creators, filmmakers, learning innovators and emerging technologists from all over the world to entertain, educate and engage youth, and to provide a rich cultural experience at a time when art and learning institutions everywhere are not accessible. Curators and content contributors include Global Nomads, Global Oneness, the Martha Graham Dance Company, Commffest, KIDS FIRST!, Dream a Dream Foundation, OddWorld Inhabitants, Psyon Games, Challenge 59, LXL Ideas, Alliance for Young Artists & Writers/Scholastic Art & Writing Awards, Creative Visions Foundation, Battery Dance, SIMA Classroom, Young Voices for the Planet, Bard Conservatory, Taking It Global, Materials for the Arts, Book Creator, Addition and Art, XTalks, NFFTY, Young People's Chorus of New York City, The International Forum for the Literature and Culture of Peace, Ryan Wong Classroom, The Global Search for Education, Voice America, Rocketium and Brandartica. Young people from around the world played a significant role in conceptualizing, creating, and producing the network's vision and programming.