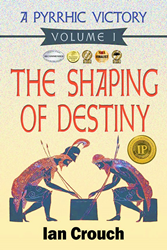 "Dr. Crouch succeeds splendidly in conveying a compelling interpretation of the lives and loves, the achievements and aspirations of great men in a great age." – Dr. Eoghan Maloney, lecturer in ancient history at the University of Adelaide
NEW YORK (PRWEB) April 06, 2020
Author Ian Crouch has earned another award for his highly appraised novel "A Pyrrhic Victory: Volume I, The Shaping of Destiny." His book was named a Finalist in the Historical Fiction Category for the 2020 Book Excellence Awards.
(http://www.bookexcellenceawards.com)
The highly researched book was chosen by the international book awards competition over hundreds of entries from around the world, noting its high-quality writing, design, and market appeal.
"A Pyrrhic Victory" refers to one that comes at such a cost that it threatens to destroy the victor. In the 22 years since the death of Alexander the Great, his empire has been divided between his generals. King Pyrrhus of Epirus becomes a major figure in the struggles of the Hellenistic World, and will later invade Italy to dispute the mastery of the Mediterranean with the Romans. Pyrrhus was described by Hannibal as the finest commander the world had seen after Alexander himself.
"Dr. Crouch succeeds splendidly in conveying a compelling interpretation of the lives and loves, the achievements and aspirations of great men in a great age." – Dr. Eoghan Maloney, lecturer in ancient history at the University of Adelaide
About the Author: Dr. Ian Crouch is a medical practitioner living in Adelaide, South Australia. Since his early days in medical school, his abiding interest has been Greek and Roman history. He has also published the second volume of "A Pyrrhic Victory," subtitled "Destiny Unfolds."
"This award-winning book conveys the triumphs of ambitious warriors who fought epic battles in the centuries before Christ. We are proud to be the publisher of this fine historical novel." Robert Fletcher, CEO of Strategic Book Publishing and Rights Agency
A PYRRHIC VICTORY: VOLUME I, THE SHAPING OF DESTINY (ISBN: 978-1-60911914-0) is now available for $19.50 and can be ordered through the publisher's website:
http://www.sbprabooks.com/IanCrouch or at your favorite book seller.
WHOLESALERS: This book is distributed by Ingram Books and other wholesale distributors. Contact your representative with the ISBN for purchase. Wholesale purchase for retailers, universities, libraries, and other organizations is also available through the publisher; please email bookorder@sbpra.net.