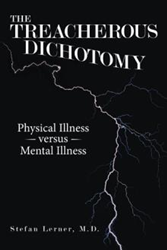 TRENTON, N.J. (PRWEB) April 03, 2019
According to Stefan Lerner, M.D., scientists have shown that "mental" illness is actually the result of physical brain abnormalities, but most people are still using misleading terminology. For him, the stakes are high, as the way people look at, label and treat these illnesses has resulted in unnecessary suffering, symptomatology, disability and suicides. Lerner wanted to promote radical change in this so-called field of mental health. It is for this reason that he wrote "The Treacherous Dichotomy: Physical Illness versus Mental Illness" (published by Archway Publishing).
In the book, Lerner challenges the status quo in this treatise, arguing that psychiatrists need to be trained like neurologists, focusing on the physical brain and its pathologies. Lay therapists, he says, are perfectly suited to offer psychotherapy. According to Lerner, the label "mentally ill" implies that those illnesses are not as "real" as physical illnesses, that an act of will can overcome them. The label also stigmatizes, which prevents individuals from seeking help.
"The bottom line is the very concept of an illness being 'mental' is scientifically wrong. They must be reclassified as physical brain illnesses like neurological illnesses. This is the most effective way to reduce stigma and improve diagnosis and treatment," Lerner points out.
"The Treacherous Dichotomy: Physical Illness versus Mental Illness" invites readers to join Lerner as he tackles a weighty topic with serious implications for doctors, psychiatrists and hundreds of thousands of everyday people. For more information about the book, please visit https://www.amazon.com/Treacherous-Dichotomy-Physical-Illness-Versus/dp/1480872083.
"The Treacherous Dichotomy: Physical Illness versus Mental Illness"
By Stefan Lerner, M.D.
Hardcover | 6 x 9in | 358 pages | ISBN 9781480872097
Softcover | 6 x 9in | 358 pages | ISBN 9781480872080
E-Book | 358 pages | ISBN 9781480872103
Available at Amazon and Barnes & Noble
About the Author
Stefan Lerner, M.D., is a senior physician/psychiatrist who has been in practice for more than 40 years. He is a diplomate of the American Board of Psychiatry and Neurology and a member in good standing of The American Medical Association. His primary clinical practice is in clinical psychopharmacology and its background basis, neuroscience.
Simon & Schuster, a company with nearly ninety years of publishing experience, has teamed up with Author Solutions, LLC, the leading self-publishing company worldwide, to create Archway Publishing. With unique resources to support books of all kind, Archway Publishing offers a specialized approach to help every author reach his or her desired audience. For more information, visit http://www.archwaypublishing.com or call 888-242-5904.