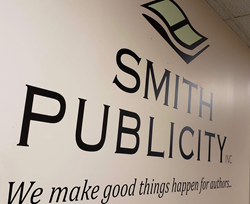 "Wall Street this month has received significant media coverage for its general arc of rebounds and optimism. From what we see in our business, the broader world of book publishing is doing similarly well,"
CHERRY HILL, N.J. (PRWEB) November 23, 2020
Smith Publicity, the recognized leader in book marketing across all genres, has announced six new hires this month; five in its book publicity services division and a sixth to support business development. The staff expansion coincides with the exponential growth in Smith's client list during 2020, despite the unexpected challenges the year has brought. The new hires cement Smith Publicity's position as the world leader in marketing books for everyone from first-time self-published writers to New York Times bestselling authors who are household names worldwide.
"Wall Street this month has received significant media coverage for its general arc of rebounds and optimism. From what we see in our business, the broader world of book publishing is doing similarly well," observed Dan Smith, Founder, and CEO, Smith Publicity. "When the coronavirus pandemic hit, we first moved our team to remote work for their personal safety, and immediately thereafter took the determined position to implement our original 2020 plan for growth. The continued expansion of self-publishing and healthy reader demand for traditionally published books has brought a growing number of new clients to our firm," Smith continued.
Despite its market position as one of the largest book promotion firms, Smith Publicity provides boutique-style, personalized service to every client. Its team members have broad marketing and publicity experience across every genre and come from diverse backgrounds that contribute to their exceptional performance. The agency prides itself on a supportive approach to each author, no matter what their level. It is well known for unique, creative campaigns and has pioneered many book promotion methods that have become industry standards in publishing globally.
The Roster of New Hires at Smith Publicity During November 2020
Kourtney Sokmen – Book Publicist. Kourtney brings a wide-ranging professional background as an author, journalist, publicist, and pop culture enthusiast. She spent has more than eight years of in-house publicity experience at Time Inc. Books and Ulysses Press, where she oversaw media campaigns for nonfiction books. Kourtney specializes in high-profile authors who include country music icon Martina McBride, actress end television host Valerie Bertinelli, Chef Todd Richards, and NBC-TV Today Show contributor Siri Daly. Kourtney is the author of five nonfiction books, including Lights Camera Booze: Drinking Games for Your Favorite Movies, that was promoted in connection with Academy Awards festivities.
Kaitlyn Kennedy – Book Publicist. Kaitlyn spent more than ten years as a publicist in-house at Penguin Random House, HarperCollins, and well-known indie publisher Sourcebooks. Working with an expansive list of nonfiction and fiction authors, she managed numerous campaigns for New York Times bestsellers, including Orphan Train, The Woman in the Window, All the Gallant Men, Sold on a Monday, and The Only Woman in the Room. Most recently, Kaitlyn worked in Chicago at an integrated marketing firm where her clients represented the nonprofit sector, including Navy Pier, the Alzheimer's Association, and Girl Scouts of Greater Chicago. Kaitlyn is a dual degree graduate of Quinnipiac University in English & Public Relations.
Ann Kaiser – Book Publicist. Ann arrives at Smith with an extensive background in the media. She is a former newspaper reporter and magazine editor with a B.S. in Psychology from Fordham University. In addition to her journalistic pedigree, she planned and implemented PR strategy for the media companies HuffPost, The Hollywood Reporter, and Telemundo.
Margaret Rogalski – Book Publicist. Margaret has an impressive resume that includes Hilsinger-Mendelson, Workman Publishing, and Princeton Architectural Press and corporate communications roles. Her clients have included New York Times bestselling authors Yotam Ottolenghi, Bianca Bosker, Wednesday Martin, Vern Yip, and Suzanne Somers. Margaret holds a Bachelor's degree in Advertising and Marketing Communications from the Fashion Institute of Technology.
Shannon Donaghy – Publicity Coordinator. Shannon is a promotion from inside Smith Publicity as she moves up from intern to Publicity Coordinator. She is a published writer and poet. Shannon graduated magna cum laude from Montclair State University. She holds a Bachelor's degree in English with a concentration in Creative Writing and a minor in Public and Professional Writing.
"We're all delighted by the arrival of these supremely talented publicists," said Mike Onorato, VP of Publicity at Smith. "Each brings highly desirable experience to our team and is known for innovation and a creative approach to book marketing and publicity. They're hitting the ground running and will provide the next level of outstanding service to our clients."
Samantha Ricchiuti -- Business Development Coordinator. Samantha is taking on a newly created position at Smith Publicity. In her new role, she will respond to new business inquiries and introduce prospective clients to the wide range of publicity and book marketing services available from Smith. Samantha has a diverse background that spans theater, hospitality, and marketing. She is a 2015 Rider University graduate with a B.A. in Music.
"We couldn't be happier to have Samantha join our team," says VP of Business Development Corinne Moulder. "Her background in theater and knowledge of the arts brings a creative dimension to her position that we know will benefit the agency and our clients."
More About Smith Publicity
Smith Publicity is the oldest and most prolific book marketing specialist in the publishing industry today. Having worked with and promoted more than 4,000 authors and books since 1997, it is an equal opportunity book publicist. The Smith team creates campaigns for everyone from first-time self-published authors to New York Times bestsellers. Its continuing success in a wide range of genres is a tribute to the firm's uniqueness and ability to boldly and ingeniously innovate. Smith Publicity is a creative and proactive force in literary marketing worldwide.