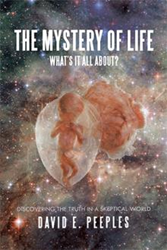 PRESCOTT VALLEY, Ariz. (PRWEB) October 10, 2018
In "The Mystery of Life - What's it all about? : Discovering the Truth in a Skeptical World" (published by Xlibris in March 2018) David E. Peeples exposes error that, for many, has generated great confusion and has given rise to a false worldview narrative. By doing this, David believes that the groundwork is laid for a foundation of truth that will give meaning to our lives and offer a certain hope for the future. Readers may visit https://www.xlibris.com/Bookstore/BookDetail.aspx?BookId=SKU-001066767 to purchase and to know more about the book.
Set for a new marketing campaign, the book presents a philosophical worldview that can be found by examining science in the light of faith and historical research. It provides an impartial look at the questions of origin, meaning,
morality and destiny. The book's narrative connects science and faith, leading readers toward truth and purpose in
a broken world plagued by death and decline.
"The book addresses the myths that have led to a false worldview embraced by many today," Peeples says. This thoroughly researched material erects a foundation upon which an accurate view of life and the cosmos can be known. By examining this publication, Mr. Peeples wants readers to experience an unraveling of the mystery of life
and to discover intellectual satisfaction in a worldview that may have been previously unknown to them.
"The Mystery of Life What's it all about?: Discovering the Truth in a Skeptical World"
By David E. Peeples
Hardcover | 6 x 9in | 466 pages | ISBN 9781984510587
Softcover | 6 x 9in | 466 pages | ISBN 9781984510594
E-Book | 466 pages | ISBN 9781984510600
Available at Amazon and Barnes & Noble
About the Author
Born in 1950, David Peeples grew up in a small Western Washington logging town near the coast of the Pacific Northwest. As a young boy, he would always prefer to be outdoors whenever possible as this afforded him the opportunity to satisfy his growing curiosity for the natural world first hand. After his graduation from high school, he attended Lower Columbia College in Longview, Washington, where the focus of his academic study in the sciences would become the natural progression of a keen interest in a complex physical world and its many wonders. This led him to the discovery and understanding of many facts and details that have defined the disciplines of physics, chemistry and biology. Peeples went on to the University of Washington in Seattle where he studied and received an academic degree in pharmaceutical science in 1973. After combining his science background with a personal interest in history and theology, he turned to writing as a way to share the knowledge gained through many years of study, research, observation and personal experience. As a long-term healthcare professional, he soon recognized that writing and teaching were the most effective ways to share the knowledge and understanding he had gained, which could ultimately benefit others as well. Many years of study, research, writing and editing would eventually lead to the completion of a book narrative that he had dreamed of sharing throughout much of his adult life.