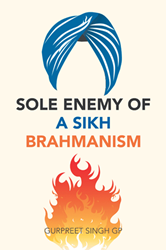 CHANDIGARH, India (PRWEB) November 20, 2019
Gurpreet Singh GP always used to wonder why Sikhs started following rituals, which for him are clearly rejected by the Gurbani. The more he ponders, the more he realizes that this all is under the influence of Brahmanism. He believes that a large section of Sikh society does not realize it and this represents mental enslavement. It is for this reason that he writes "Sole Enemy of a SIKH, Brahmanism" (published by Partridge Singapore). The book is also available in Punjabi language titled "Sikh da Ikko Vaeree, Brahmanvaad. For more details about the book, please visit https://www.amazon.com/Sole-Enemy-Brahmanism-Gurpreet-Singh/dp/1543754236.
The book summarizes the ideological difference between Sikhism and Brahmanism and makes it clear that the two ideologies are the exact opposite to each other. It discusses the erosion of Sikh values under the influence of Brahmanism. It is also a testimony to the fact that fascism coming to power will always create havoc on human civilization.
"Brahmanism has never been explained so explicitly with modern day examples. The book unveils the difference between faith and blind-faith which otherwise had become a point of contention between believers and non-believers," Singh says. "The writing of this book aims to unite all under the virtues of universal laws of nature." Singh adds. "There cannot be better time to introspect when the 550th birth anniversary of Guru Nanak Sahib is being celebrated world over."
"Sole Enemy of a SIKH, Brahmanism" aims to empower readers with the ideas that not only uplifts their spiritual intellect but also actually leads to sovereignty. They will come to know briefly the Sikh history, the fundamentals of Sikhism and the challenges a Sikh faces today, all of which under the aegis of Guru Nanak's universal message of equality, justice and love.
"Sole Enemy of a SIKH, Brahmanism"
By Gurpreet Singh GP
Hardcover | 6 x 9in | 124 pages | ISBN 9781543754254
Softcover | 6 x 9in | 124 pages | ISBN 9781543754230
E-Book | 124 pages | ISBN 9781543754247
Available at Amazon and Barnes & Noble
About the Author
Gurpreet Singh GP was born and brought up in Punjab, India, has varied interests apart from possessing vast multicultural corporate management experience. He holds strong command on current events and history, which makes him relate the events with the ideologies working behind them. Singh is also the creator of Saakhi - Sikh History & Gurmat YouTube channel and mobile app. Comments from his viewers have enriched him with the queries that are bothering the minds of seekers to maintain balance between modern globalized society and spiritual life. This maiden book is an effort to answer those queries.
Partridge Singapore, an imprint in partnership with Penguin Random House Singapore, aims to help writers in Singapore, Malaysia, and the rest of Southeast Asia become published authors. Partridge Singapore gives authors in the region direct access to a comprehensive range of expert publishing services that meet industry standards but are more accessible to the market. For more information or to publish a book, visit partridgepublishing.com/singapore or call 800 101 2657 (Singapore) or 1 800 81 7340 (Malaysia). For the latest, follow @PartridgeSG on Twitter.