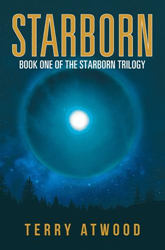 TORONTO (PRWEB) November 20, 2019
Terry Atwood tell the story about an epic struggle to save mankind, intertwined with a romance proving love and passion can conquer all in "Starborn: Book One of the Starborn Trilogy" (published by iUniverse in July 2018). This book is set for a new marketing campaign. For more details about the book, please visit https://www.amazon.com/Starborn-Book-One-Trilogy/dp/1532052022.
Jake Williams is a retired astronaut on a camping trip in the Colorado Rockies southwest of Denver. His defining moment involves a life-and-death struggle to save an injured alien whose dark purpose changes Jake's life. As he attempts to save the alien, an unexplainable bond develops. The alien forsakes his people and transfers not only telepathic control of his ship to Jake, but also his vast knowledge of the universe and a critical part of his DNA. From that moment, Jake becomes responsible for the lives of everything on the planet. He is asked to sacrifice all he holds dear and is tested to the limits of human endurance. During this chaos and overwhelming hopelessness, family, friends and government leaders rally to help him save humanity by fleeing the coming destruction.
As Jake reaches his limits, a young woman crosses his path, a beautiful Spanish girl half his age. Gena serves as the personal secretary of the first female president of the United States, and she is unwillingly pulled into the circle surrounding Jake and his ship. For a long time, they both resist the feelings growing between them. But Gena's wild passion and Jake's raging desire ignites a powerful love binding them across the vast distances of space and is the driving force that saves mankind.
An excerpt from the book:
"Wait" Gena stepped into the miked area of Jake's platform. "Nexians explore space. They go from planet to planet. Now that we have SHIP and the technology he represents, can't we do the same?
Find another planet to colonize, far enough away that they can never find us?" There was silence as the idea sank in. Jake turned to her, the new possibility dawning. "You mean ------."
"I mean…. Run away."
"Starborn: Book One of the Starborn Trilogy"
By Terry Atwood
Hardcover | 6 x 9in | 380 pages | ISBN 9781532052019
Softcover | 6 x 9in | 380 pages | ISBN 9781532052026
E-Book | 380 pages | ISBN 9781532052033
Available at Amazon and Barnes & Noble
About the Author
Terry Atwood was born it the small town of Cranbrook, British Columbia, Canada. After graduating from Southern Alberta Institute of Technology in Calgary, Alberta, Canada, he traveled the world working as a start-up engineer for power plants and oil and gas refineries. During his working career he has been a big game guide, a forest fire fighter and a computer programmer, he experienced the invasion of Kuwait, the Yemen revolution, the civil war in El Salvador and the minus 50 degree weather of the far north. Through all these situations, he has met many interesting people from all walks of life, from kings and princes to labors from Bangladesh and clerks from San Salvador; each with an interesting story to tell.