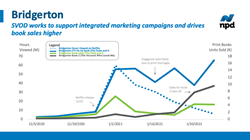 Book sales are generally bolstered by related video content appearing on Netflix and other streaming services, but the release timing, previous box-office movie releases, and other factors also play an important role.
PORT WASHINGTON, N.Y. (PRWEB) March 16, 2021
A page-to-screen adaptation has historically been tried and true way to boost a book's sales. Some readers prefer to read a book before seeing it on screen, others are drawn to the book after they watch the story on screen, but it was widely believed that a movie or TV-show adaptation would reliably elevate a book's long-term sales. That predictable pattern is holding for original adaptations from streaming services, now that Netflix and other streaming-video on-demand (SVOD) services have become mainstream in the United States, according to The NPD Group (http://www.npd.com). However, not all page-to-screen releases on streaming services perform the same.
NPD recently gathered subscription streaming video data for "Bridgerton" and "A Wrinkle in Time" from its Subscription Video Track service — placing it alongside U.S. print books sales data from NPD BookScan. The side-by-side comparison revealed the effects of Netflix streaming on book sales, providing additional insight into page-to-screen book sales.
"Book sales are generally bolstered by related video content appearing on Netflix and other streaming services, but the release timing, previous box-office movie releases, and other factors also play an important role," said Kristen McLean, books industry analyst for NPD. "In some cases, when a high-profile original adaptation is released by a streaming service, the sales spike for related books is large and immediate. However, the same can't be said for every show or movie, especially if the project had a previous release in some form."
"Bridgerton" gets a boost
"Bridgerton" has become the exemplar for what a streaming-native adaptation can do for a book series, boosting corresponding books sales by the thousands. Interest in the book has continued, even after series viewing declined, with the TV tie-in book edition outperforming other formats. The second book in the series, "The Viscount Who Loved Me," experienced a delayed increase in sales as people first discovered the series, catching up as the "Bridgerton" phenomenon spread. "SVOD has definitely reached the point where it can generate the buzz to support integrated marketing campaigns that increase book sales, but it's not always the case," McLean said.
"A Wrinkle in Time" falls short
Not every SVOD release will lead to increased book sales, even for marquee properties. The film version of "A Wrinkle in Time" first premiered at the box office in February 2018, followed by its debut on Netflix in September 2018. The box office release had a big impact on book sales, pushing it to the top of the bestseller list for kids throughout 2018, but the move to Netflix had a far less dramatic impact on additional book sales.
For the biggest book properties, there is a saturation point after which returns diminish. "It is likely that those who were most engaged with 'A Wrinkle in Time' purchased the book alongside the theatrical release during the initial marketing period, and sales and readership for the story were already saturated by the time the show hit Netflix," McLean said. "Original content tends to have a stronger impact on SVOD viewing and consumer discovery, which pays dividends with book sales."
About Subscription Video Track
Subscription Video Track from The NPD Group—covering Netflix, Hulu, and Amazon Prime viewership—gives businesses a comprehensive and in-depth look at viewing habits in the U.S., across all types of devices and profiles. Explore series and movie rankings by device category, including TV-connected, mobile, gaming, and computers.
About NPD BookScan
NPD BookScan is the gold standard in point-of-sale tracking for the publishing market, covering approximately 85 percent of all the print books sold in the U.S. through direct reporting from all major retailers including Amazon, Barnes & Noble, Walmart, Target, independent bookstores, and many others. Each sale of the more than 13 million units tracked on a weekly basis includes geographic information making it possible to identify key markets, map regional sales trends, and index the likelihood of purchase in 200 major metro areas. NPD BookScan is also the exclusive provider of ALR data for Barnes & Noble, Target, Walmart, and Sam's Club to U.S. publishers.
About The NPD Group, Inc.
NPD offers data, industry expertise, and prescriptive analytics to help our clients grow their businesses in a changing world. Over 2,000 companies worldwide rely on us to help them measure, predict, and improve performance across all channels, including brick-and-mortar, e-commerce, and B2B. We have services in 19 countries worldwide, with operations spanning the Americas, Europe, and APAC. Practice areas include apparel, appliances, automotive, beauty, books, B2B technology, consumer technology, e-commerce, fashion accessories, food consumption, foodservice, footwear, home, juvenile products, media entertainment, mobile, office supplies, retail, sports, toys, and video games. For more information, visit http://www.npd.com. Follow us on Twitter: @npdgroup.