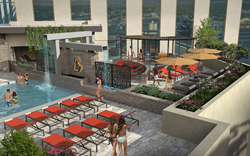 RENO, Nev. (PRWEB) September 20, 2018
The Spa at Silver Legacy, northern Nevada's newest luxury spa experience, is now accepting online bookings, with inaugural treatments beginning Oct. 2. Guests are invited to relax the body and renew the soul in the region's largest spa treatment facility, including premier services at The Salon, The Boutique and the Fitness Center.
"The Spa has been the most anticipated element of the THE ROW's master renovation of over $100 million and we are enthusiastically waiting its debut," said Bill Gustafson, Vice President and General Manager of THE ROW.
Director of Spa and Wellness George Powell-Lopez spearheads the grand opening of The Spa at Silver Legacy alongside Spa Operations Manager Christina Alexander and Spa Therapist Supervisor Melinda Craig. With over 45 years of combined experience, the trio have successfully managed the completion of the 21,000-square-foot facility, from aesthetic concept and construction, to treatment curation and guest experience.
"The opportunity to oversee a spa of this grandeur has been an exceptional experience, and I can't wait to reveal its elegance to the public," said Powell-Lopez.
The Spa offers 12 massage options, both classic and innovative, ranging from 25 to 100-minute sessions. Each massage was designed with the Reno-Tahoe traveler in mind, including: the Fiery Snow Massage, which incorporates traditional hot stone therapy and white cold marble stone chasers; the Jet Lag Eliminator, created as an energy boost to revive adventurers; and the Slide Mountain Detox Massage, which detoxifies the body and instills optimal health, using cleansing oils to decongest and promote the release of toxins naturally.
More complex and intricate massages, such as the Pair of Aces, features two massage therapists, perfectly synchronized, to create a customized full body massage. The Spa's paramount massage, the Double Down, is a classic massage for two, utilizing one of three couples treatment rooms, which includes a private shower and spa tub.
Similar to the Fiery Snow Massage, the Fiery Snow Facial, plays on the dueling elements of Nevada's desert heat with Lake Tahoe's cooling remedy. The treatment wields a hot cherry pepper peel to open the pores, with a cooling mask treatment to detoxify and minimize pore appearance.
The Spa also includes facials specifically designed for men and women, including the Om4Men Facial which utilizes luxurious hot towels, a relaxing neck and shoulder massage and age delaying ingredients; and the Apothecary Facial for women, utilizing local Sorella Apothecary skincare products.
Additional treatments include body scrubs and body wraps, including the Dirty Mess Detoxifying Body Treatment — an invigorating exfoliation with volcanic pumice and Coffea Arabica, followed by a warm wrap with mineral-rich black silt clay and herbal extracts of Indian sarsaparilla and honey.
The full-service Salon offers services in hair, using premier Redken products; nails using vegan nail polishes by Dazzle Dry; and body waxing.
The Spa at Silver Legacy's partnership with local artisans captures the essence of northern Nevada through aesthetic design and sensory experiences, while demonstrating a positive economic impact on local business owners. Powell-Lopez partnered with scientists from the University of Nevada to develop a line of signature scents cultivated from northern Nevada's indigenous plants. Sorella Apothecary, a botanically-based skincare company, provides a line of natural products for facials and massages, and will be available for purchase in The Boutique. Davidson's Organics, the first certified organic, fair-trade and specialty tea company in the U.S, headlines The Spa's custom tea pairing program, offering Ayurvedic teas designed to accompany each spa treatment.
"Industry-defining wellness and beauty brands are at the forefront of our identity," said Powell-Lopez. "Our partnership with local businesses is a reflection of Reno's innovation and we're happy to showcase products that are unique to our home."
In addition to locally sourced products, The Spa at Silver Legacy welcomes nationally recognized wellness brands, including OM4 Men, a natural and organic product line designed specifically for men. Similarly, Salt of the Earth cultivates its products from ancient salt beds of the Great Salt Lake. The Spa will offer a custom salt blending bar where guests can customize scented scrubs, creams and detoxifying salts for continued at-home care. Other brands of note include Coco La Vie candles, moisturizers, scrubs, body butters and shampoos; and Naturopathica facial and body treatment products.
The Boutique carries a grandiose variety of luxury brands including Hampton Sun upscale sunscreens, T-spheres aromatherapy balls and Druzy jewelry by Monica Mauro.
The Fitness Center uses state-of-the-art Technogym equipment for a virtual reality cardio experience, including biking, hiking and trail running—helping to connect guests with the natural terrain of Reno-Tahoe emanated throughout The Spa.
Concierge food and beverage service allows guests to order a variety of healthy cuisines direct to The Spa including freshly-prepared bento boxes, salads, wraps, paninis and fresh fruit.
To commence your luxury spa experience, visit SilverLegacy.com/spa, or call 1-800-687-8733. The Spa at Silver Legacy will be open daily from 9 a.m. to 9 p.m., beginning Oct. 2. Guests are encouraged to arrive at least one hour prior to treatments to enjoy all amenities within the private rooms and facility.
About THE ROW
Eldorado Resorts, Inc. (NASDAQ: ERI) presents a one of a kind, unified and distinguished resort experience with THE ROW—a newly branded destination in the heart of Reno comprising of six contiguous city blocks, uniting the Eldorado Resort Casino, Circus Circus Reno and Silver Legacy Resort Casino. THE ROW encompasses 25 restaurants, 22 bars and lounges, 11 nightspots, over 4,000 luxury rooms and suites and 227,000 square feet of casino space with 3,000 slot machines and 125 table games. In addition, THE ROW has over 4,100 of the best Team Members in the industry. For more information about THE ROW, located in the heart of Reno, visit TheRowReno.com, follow THE ROW on Instagram and use #TheRowReno when uploading your photos to Facebook, Twitter and Instagram.
About Silver Legacy Resort Casino
Silver Legacy Resort Casino is a 1,600-room premier destination, located in the heart of Reno and boasting the perfect amenities for any getaway: spacious guest rooms and spa suites, over 50 headlining entertainers a year, seven award-winning restaurants including LA's famous Canter's Delicatessen, a state-of-the-art Poker Room and Laugh Factory Comedy Club, the #1 comedy club in the country. For more information about Silver Legacy Resort Casino, visit SilverLegacyReno.com or follow Silver Legacy on Facebook, Twitter and Instagram and use #SilverLegacy when uploading your photos to Facebook, Twitter and Instagram.