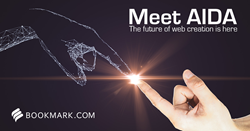 Aida will change the way many people approach website creation and design.
Toronto, Ontario (PRWEB) May 02, 2017
Innovative website building platform, Bookmark, announces the official release of sophisticated AI software Aida (Artificial Intelligence Design Assistant). Aida empowers those without any technical skills with the ability to instantly create a customized website.
Aida combines machine learning algorithms with a user's unique website desires to make selections from millions of design combinations, and produce a website that fits their needs. She creates the first version of a website in under two minutes, and then guides users through the simple process of editing content, images and other website sections.
"Aida will change the way many people approach website creation and design," says David Kosmayer, CEO of Bookmark.com. "Whether you are a young entrepreneur looking to test out your idea or an offline business finally transitioning online, Aida allows you to be lean, flexible and quick as she eliminates 90% of the pain points usually associated with website creation and design."
Each website the AI website builder creates is one that suits the user's business and industry. Aida then allows the user to add their own personal touch to the website by giving them the ability to easily alter the style, font and images. Easy drag-and-drop capabilities also allow users to add specific modules and features that make sense for their business.
David assures that the human factor is still vital in the process of creating a website. "Aida is still learning, and as Bookmark grows, so will Aida's creative power. This is the starting point to the collision of the complex AI world and the creative designer's mind. Eventually we want Aida to assist each user in discovering their inner creative genius. Bookmark will be their canvas and Aida is their paintbrush."
Aida complements Bookmark's core service features including the e-commerce website builder, and extensive database of e-learning courses. Following a recent round of funding, Bookmark's quest to build a true entrepreneurial platform continues to innovate and grow.
Bookmark's Aida isn't the only software changing the landscape of design. Fellow Toronto-based start up Logojoy has harnessed the power of AI within their AI-powered logo design platform. "AI is the way of the future, and our success is a testament to that," says Logojoy CEO, Dawson Whitfield. "It is a rapidly growing industry and companies will have to adapt to remain competitive, or be left behind."
Bookmark's Aida is now live with additional features expected to roll out soon. To learn more about Bookmark's AI software visit: https://www.bookmark.com