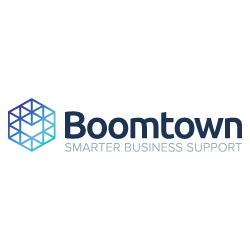 "Companies that provide technology powered products are in a constant state of reaction to their customers' challenges and for good reason – it is an increasingly complex and connected physical environment."
SAN FRANCISCO (PRWEB) May 16, 2019
Boomtown reduces the complexity of selling, activating and supporting business technology products used in real life. Today the Company announces a $12 million investment led by Telstra Ventures with participation from Capital One Growth Ventures and returning investors Nyca Partners, Commerce Ventures, Spider Capital and NHN Ventures. This Series B financing will further accelerate the company's continued growth as well as its ongoing investment in its Relay Software-as-a-Service (SaaS) platform.
Relay helps companies who sell, activate and support business technologies orchestrate and automate effortless product support experiences. Partners who have adopted Relay have seen reductions in product activation times of up to 88%, improvements in customer service handle times of 45% and Net Promoter Score increases of more than 20 points.
Customer technology lifecycles are now defined by journeys that span interdependent products and services across teams and organizations. Traditional CRM and support systems focus on the customer record as the central organizing structure. Relay from Boomtown leverages the world's first (patent pending) business technology index and machine learning to generate powerful insights on how customers are using connected technology products from multiple providers across business types, use cases, physical locations and through time. Relay provides organizations with the real-time product intelligence and context they need to sell more effectively, help customers get productive on the solutions they have sold them and solve recurring issues fast. It enables organizations to share knowledge and collaborate with teams across their partner ecosystem to deliver better end-to-end customer experiences.
"Companies that provide technology powered products are in a constant state of reaction to their customers' challenges and for good reason – it is an increasingly complex and connected physical environment." said Alfred 'Chip' Kahn IV, Founder & CEO. "This capital accelerates our ability to transform partner customer journeys from being reactive to proactive and predictive."
"The number of digital devices in distributed environments, such as retail stores, has been exploding. For instance, CPU growth in small businesses has skyrocketed in the last decade from 2 connected CPUs to over 25 on average." said Mark Sherman, Managing Director at Telstra Ventures. "This ongoing transformation represents a massive challenge that Boomtown has unique capabilities to solve. Given there are over 60 million retail store locations worldwide, the market opportunities for Boomtown are significant."
Boomtown is also pleased to announce the appointment of Robert HB Baldwin, Jr. to its Board of Directors. Mr. Baldwin, who also serves on the Board of Global Payments Inc., brings a wealth of experience in finance and operations together with key industry relationships. He joined Heartland Payment Systems in 2000 as its CFO and helped manage its ensuing growth through its IPO in 2005 and the eventual $4.3 billion sale to Global Payments in 2016. Before joining Heartland, he served as a Managing Director in Smith Barney's Financial Institutions advisory business. 
About Boomtown
Boomtown's mission is to help organizations that sell, activate and support business technology products to simplify the complexity of delivering insightful and effortless customer experiences at scale. Using Boomtown's Relay platform, technology solution providers can communicate with their customers in efficient and engaging ways, collaborate across organizations to answer questions, and resolve issues fast. Relay also has an expert network where teams can seamlessly access programmable remote and field services to augment their existing operations. Through over 175 technology partners, over 350,000 business locations are served via Relay which has over 2,500 unique products and services indexed. Learn more about Boomtown Relay at http://www.goboomtown.com.
About Telstra Ventures
Telstra Ventures is a strategic venture capital firm that is focused on providing synergy revenues to its portfolio companies and financial returns to its limited partners. Telstra Ventures invests in market leading, high growth technology companies with exceptional products and leaders. Telstra Ventures is backed by two strategic LPs: Telstra, one of the 20 largest telecommunications providers globally, and HarbourVest, one of the world's largest private equity funds. With offices in San Francisco, Sydney, Melbourne and Shanghai, Telstra Ventures has invested in over 50 companies since its inception in 2011. Visit http://www.telstraventures.com to learn more.