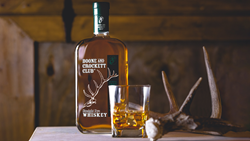 MISSOULA, Mont. (PRWEB) April 25, 2019
Boone and Crockett Whiskies, named after the iconic hunter-conservationist organization itself, is now available for distribution across Georgia and can be ordered via General Wholesale Company.
The 86-proof Straight Bourbon is expertly distilled and aged for two years in charred oak barrels, offers a smooth, rich flavor with notes of smooth marzipan and tea nose balanced with spice and vanilla oak, and ending with a "Smokey Camp Fire Finish."
The handcrafted, 86-proof Rye Whiskey blends tastes of caramel, wild berries, and sweet corn and finishes with that signature "Smokey Camp Fire Finish" for a superb velvety texture and a brilliantly balanced palate.
Boone and Crockett's 80-proof American Blended Whiskey combines a knowledge of great bourbon and tradition to create an easy sipping whiskey featuring tastes of buttery pecans, dried fruit, and sweet jams, wrapped up with notes of peppercorn and the "Smokey Camp Fire Finish."
Each of these whiskies are handcrafted for the American outdoorsman to honor their legacy of wildlife stewardship and conservation across the United States. Sportsmen have always, and will continue to, play a pivotal role in the health and vitality of wild places, wild things, and the opportunity to enjoy them.
These whiskies that are sure to make the namesakes of the club, Daniel Boone and Davey Crockett, proud are now available to outdoor lovers across the state of Georgia.
In partnership with Stone Road Media, Boone and Crockett Whiskey will also be aiding each store in sell-through by way of marketing initiatives.
Please contact your local distributor today to get a taste of Boone and Crockett Whiskey!
Contact:
General Wholesale Company—(404) 352-1041 Atlanta, Georgia