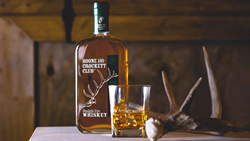 MISSOULA, Mont. (PRWEB) March 22, 2019
Boone and Crockett Whiskies, named in honor of the iconic hunter-conservationist organization itself, is now available for distribution across the states of New York, New Jersey, and Connecticut. The brand is continuing to expand its reach across the nation to bring a taste of tradition to hunters across the country.
The handcrafted, 86-proof Rye Whiskey blends tastes of caramel, wild berries, and sweet corn and finishes with that signature "Smokey Camp Fire Finish" for a superb velvety texture and a brilliantly balanced palate.
The 86-proof Straight Bourbon is expertly distilled and aged for two years in charred oak barrels, offers a rich flavor with notes of smooth marzipan and tea nose balanced with spice and vanilla oak, and ending with a "Smokey Camp Fire Finish."
Boone and Crockett's 80-proof American Blended Whiskey combines a knowledge of great bourbon and tradition to create an easy sipping whiskey featuring tastes of buttery pecans, dried fruit, and sweet jams, wrapped up with notes of peppercorn and the "Smokey Camp Fire Finish."
These whiskies were created to honor the legacy of wildlife stewardship and conservation efforts upheld by the American outdoorsman each and every day.
The handcrafted line of whiskies are sure to make the namesakes of the club, Daniel Boone and Davy Crockett, proud and are now available to outdoor lovers across all three states.
In partnership with Stone Road Media, Boone and Crockett Whiskey will also be aiding each store in sell-through by way of marketing initiatives.
Please contact your local distributor today to get a taste of Boone and Crockett Whiskey!
New York Distributors:
Lake Beverage Corp. - (585) 427-0090
Eagle Beverage Company- (315) 343-5221
Seneca Beverage- (607) 535-5400
Rocco J Testani Inc- (607) 722-6476
Try-It- (716) 651-3551
Sanzo & Sons- (585) 343-0468
New Jersey Distributors:
Quality Food Products Inc.- (732) 721-1256
Connecticut Distributors:
Brescome Barton- (203) 239-4901