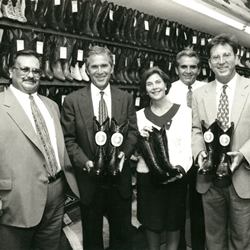 FORT WORTH, Texas (PRWEB) February 21, 2023
Tony Lama, the iconic boot company, has a long-standing tradition of proudly designing custom-made boots for US Presidents. From President Harry Truman to President Donald Trump, Tony Lama boots have adorned the feet of some of the most powerful men in the world. With a legacy that spans over a century, the company continues to uphold its reputation for excellence and craftsmanship.
In 1948, the Tony Lama team had the honor of presenting President Harry S. Truman with a custom-crafted pair of kangaroo skin boots. These boots, named "El Presidente," sparked a tradition of offering a pair of boots for several United States presidents.
When it comes to designing custom boots for US Presidents, Tony Lama's team of artisans goes above and beyond to create a pair that is truly unique. From the selection of the leather to the intricate details, every aspect of the boot is tailored to the President's taste and preferences.
Most recently, Tony Lama designed custom boots for President Donald Trump. Eleven of Tony Lama's finest artisans with a collective total of 351 years of bootmaking experience worked meticulously on his boots. Made of American Alligator on the foot, President Trump's boots proudly display the Presidential Seal on the front of the upper, which was hand-cut, laser engraved, hand-painted and inlayed. "Make America Great Again'' was also laser-cut and inlayed on the back of the upper to commemorate Trump's rally cry. The custom boots that were designed for President Ronald Reagan featured full quill ostrich on the foot and the detailed Presidential Seal on the upper. President George W. Bush's custom boots featured a Presidential Seal on the front and a silver horseshoe with his name on the back.
When tasked with the honor of crafting boots for the Commander-In-Chief, quality matters. For over a century now, the Tony Lama artisans have perfected every step of the bootmaking process. Each pair of Tony Lama boots are crafted with the utmost attention to detail to ensure exceptional quality of the finest materials. Learn more about Tony Lama's history of outfitting Presidents here.
About Tony Lama Boots
Tony Lama Boots is a brand of western footwear that was founded in 1911 by Tony Lama in El Paso, Texas. Throughout history, Tony Lama has repeatedly proven to be the world's most recognized western boot brand by building a wide range of boots for both men and women, including cowboy boots, work boots, and casual shoes. Each pair of prized Tony Lama boots is a true work of art, meticulously built by hand, crafted of the finest leathers. This reputation comes from 100+ years of experience in perfecting every step in the bootmaking process. For more information, visit http://www.tonylama.com.
Facebook: @TonyLama | Instagram: @TonyLamaBoots | Twitter: @TonyLama