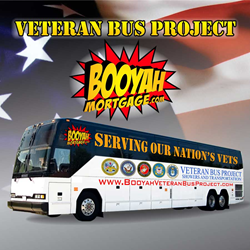 Don't Just Talk It, Walk It
Panama City, FL (PRWEB) November 10, 2016
On November 11th, Shane Johnson, Shawn Moore, Richard Mccuen and Charles Anderson will be completing their historic 21-day, 360+ mile march from Lake Nona, Florida in honor of the very inspiring Ms. Ellen Gilbert, who with very little has given so much to the veteran community. The mission of the Booyah Team march is to bring awareness through aggressive action as a example of the fighting spirit to reach all Military personal in need. The Team will be Live Broadcasting their entry into Panama City on Facebook and linking up with the PC Veterans Day parade on November 11th at 0830CST/0930EST.
Following the Parade, Shane Johnson, founder of the Booyah Veteran Bus Project, will be a keynote speaker at the Rescue Mission in Panama City starting at 1130CST/1230EST, which will also be broadcasted Live on Facebook. He will be speaking to numerous homeless Veterans to inspire and empower them to believe that anything is possible and to change their current situation.
Today at 1400, Shane Johnson will meet with Congresswoman Gwen Graham who represents Florida's Second Congressional District, where she will address issues relating to Veterans. Later in the day, the Marines will celebrate the 241st Marine Corps birthday among fellow Marines, in true time-honored Marine Corps Tradition.
Show support by visiting the website, watching the videos, and liking and sharing the Facebook page to help raise awareness. This project was created to make a difference for the Veterans in our community so "don't just talk it, walk it."