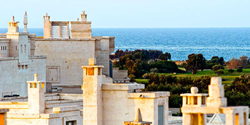 "After creating several innovative wellness programs focused on happiness, we realized that we wanted to implement a deeper science-based approach to deliver meaningful wellbeing experiences."—Aldo Melpignano, Founder and Managing Director of Borgo Egnazia.
MINNEAPOLIS and SAVELETTRI DI FASANO, Italy (PRWEB) August 07, 2019
Borgo Egnazia, an award-winning destination located in Puglia, Italy, has just partnered with Blue Zones to offer a series of science-based wellness retreats focused on longevity beginning in September 2019. The breathtaking property set among thousand-year-old olive trees is already known for its innovative wellness programming which capitalizes on local traditions, the regional Mediterranean diet and their award winning spa. Now a new international certification confirms their approach: Borgo Egnazia is the first hospitality partner in the world who will offer Blue Zones Retreats certified by the Blue Zones Institute®.
BLUE ZONES® is a ​trademark of Blue Zones, LLC, and reflects the lifestyle, traditions and the environment of the world's longest-lived people. ​Dan Buettner, Blue Zones founder, is a National Geographic Fellow and multiple New York Times bestselling author. He discovered five places in the world – dubbed blue zones – where people live the longest, and are healthiest: Okinawa, Japan; Sardinia, Italy; Nicoya, Costa Rica; Ikaria, Greece, and Loma Linda, California. Blue Zones, LLC works with communities, cities, and campuses all around the world to optimize their systems and surroundings so that healthier choices are easier. Their groundbreaking approach has had marked success in improving the health and well-being of large populations and entire cities. This will be the core of the brand-new retreats.
The Borgo Egnazia BLUE ZONES Retreats will feature evidence-based solutions from the world's longest-lived people delivered in a practical format that makes healthy living easy and sustainable. Activities include health-conscious meals and cooking classes based on the Blue Zones findings; movement sessions in the Puglian countryside; innovative workshops; and unique evening events. The retreats will be available at Borgo Egnazia twice in 2019 from September 16 to 21, 2019 and again from November 18 to 23, and four times in 2020 (March 16 to 21, May 4 to 9, September 7 to 12, and November 9 ​to 14).
"Borgo Egnazia has always had a strong commitment in delivering 'happiness' to people, both for its guests and staff," said Aldo Melpignano, Founder and Managing Director of Borgo Egnazia. "After creating several innovative wellness programs focused on happiness, we realized that we wanted to implement a deeper science-based approach to deliver meaningful wellbeing experiences. We are thrilled to have partnered with Blue Zones for these innovative retreats that will provide our guests a practical format that makes healthy living easy and more sustainable."
The retreat's programming is in line with Buettner's concept of the Power 9, the nine lifestyle habits that all five blue zone areas have in common. Borgo Egnazia personnel have been extensively trained in these evidence-based principles so that participants can be immersed in the traditions of the world's longest-living cultures.
The Power 9 are:
MOVE NATURALLY: Blue zones centenarians dwell in environments that push them to perform moving naturally, or simple daily physical activity.
PURPOSE: Waking up in the morning knowing your purpose is worth up to seven years of extra life expectancy.
DOWN SHIFT: Stress leads to chronic inflammation and is associated with every major age-related disease. The world's longest-lived people focus on routines that help shed stress and cultivate calmer mindsets.
80% RULE: The practice of stopping eating when eighty percent full.
PLANT SLANT: The best-of-the-best longevity foods are leafy greens such as spinach, kale, beet and turnip tops, chard, and collards. Combined with seasonal fruits and vegetables, whole grains, and beans, these healthy options dominate blue zones meals all year long.
WINE AT 5: Whether it's a toast at sunset or a get-together with friends for happy hour, it has been found that moderate drinkers outlive non-drinkers, especially if they share those drinks with company.
BELONG: Attending faith-based services four times per month—no matter the denomination—adds up to fourteen years of life expectancy.
LOVED ONES FIRST: Those who have become centenarians almost always put their family first by keeping aging parents and grandparents nearby, committing to a life partner, and investing in their children.
RIGHT TRIBE: The world's longest–lived people choose, or were born into social circles that support healthy behavior.
Wellness tourism has grown into a $639 billion market and continues to grow, growing at double the pace of regular tourism. Well-being travel now means more than just a luxurious spa or yoga classes by the pool, and hotels and resorts are beginning to expand the definition of this rapidly evolving industry. Borgo Egnazia is ahead of the curve with their new research-driven BLUE ZONES Retreats, which aims to send their guests home healthier and happier than when they arrived, as well as better equipped to handle the everyday stressors of modern life.
The Borgo Egnazia BLUE ZONES Retreats are priced at €6,665 per person (approximately $7,470) for the September session, and €5,140 (approximately $5,760) per person for November.
ABOUT BLUE ZONES LLC: Blue Zones® employs evidence-based ways to help people live longer, better. The company's work is rooted in explorations done by Dan Buettner, a National Geographic Fellow and New York Times best-selling author who identified five cultures of the world—or blue zones regions —with the highest concentration of people living to 100 years or older. The original research and findings were released in the bestselling books The Blue Zones, The Blue Zones Solution, Thrive, and The Blue Zones of Happiness. Using original Blue Zones research, Blue Zones works with cities and communities to make healthy choices easier through permanent changes to a city's environment, policy, and social networks. Participating communities have experienced double-digit drops in obesity and tobacco use and have saved millions of dollars in healthcare costs. For more information, visit http://www.BlueZones.com.
ABOUT BORGO EGNAZIA: Borgo Egnazia, an award-winning destination located in Puglia, Italy, is inspired by the shapes, materials, and colors of a typical Apulian village. In less than ten years, the property has gained a unique position as a high-end travel destination, becoming a worldwide symbol of Puglian hospitality. Since 2010, Borgo Egnazia has been working on an elevated concept of hospitality and wellbeing based on local and authentic experiences. The main goal has always been to deliver "happiness" to guests, focusing on meaningful, tailor-made experiences rooted in local traditions. The breathtaking property, set among thousand-year-old olive trees, is already known for this innovative wellness programming, which capitalizes on local traditions, the regional Mediterranean diet and their award-winning VAIR spa. Open year-round, Borgo Egnazia has 63 suites, 92 casette (small houses), 28 villas, diverse restaurants, two beautiful private beach clubs, indoor and outdoor swimming pools, and the San Domenico Golf Club. For more information, visit ​http://www.borgoegnazia.com
BORZO EGNAZIA MEDIA CONTACT:
Jessica Aufiero | Valerie Beeche
JESSICA AUFIERO COMMUNICATIONS (JAC)
E. jessica(at)ja-pr.com​, valerie(at)ja-pr.com
M. 917.353.0202 http://www.ja-pr.com ​| @japrnewyork