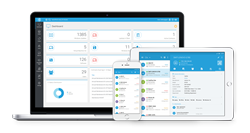 "BOSS Solutions received excellent ranking from customers, particularly for Vendor Support and Breadth of Features and has built a product that is highly valued by their customer base."
ATLANTA (PRWEB) May 30, 2019
BOSS Solutions a leading provider of IT asset & service management solutions has been named a gold medalist in SoftwareReviews 2019 IT Asset Management Data Quadrant Awards. SoftwareReviews, a division of world-class research and advisory firm Info-Tech Research Group Inc., published its 2019 IT Asset Management (ITAM) Data Quadrant on May 22nd 2019.
Software Reviews' Data Quadrant is based entirely on real user feedback and provides unprecedented levels of insights into data points per product within the category, making it the most comprehensive enterprise software review and assessment in the market today. IT leaders, business professionals, and end-users evaluate vendors via a detailed online survey, examining relative performance across two axis: Product Features & Satisfaction and Vendor Experience and Capabilities. The reviews are then carefully validated through a robust quality assurance process, beyond checking for LinkedIn authentication
"The true value of asset management comes from the rising tide of improved IT services built upon the foundation of a proactive asset management program,'' said Sandi Conrad, Senior Research Director, Info-Tech Research Group, "BOSS Solutions received an excellent ranking from customers, particularly for Vendor Support and Breadth of Features and has built a product that is highly valued by their customer base."
"We are truly honored to receive this award", said Maha Mahadevan CEO and President of BOSS Solutions. "Our product suite, BOSSDesk on the Cloud and BOSS Support Central for On-premise is thoughtfully designed to incorporate advanced features and capabilities that are required to implement best practices for IT asset and service management. We have always been committed to ensure that our customers are provided with the latest technology and we offer the strongest commitment to customer support in the industry."
About BOSS Solutions
Founded in 1991, BOSS Solutions is a U.S. Company providing brilliantly simple solutions to meet the needs of customers in IT asset and service management. The company's major product lines are BOSSDesk that provides IT asset and service management on the Cloud, BOSS Support Central – that takes on-Premise asset and service management to a new level, and BOSS 811 a one call ticket management solution for the damage prevention industry. The company has built a committed customer base by incorporating best practices in the automation of service management processes and the strongest commitment to customer support in the industry. For more information visit http://www.boss-solutions.com or call +1 678.684.1200.
About SoftwareReviews
SoftwareReviews is a division of Info-Tech Research Group Inc., a world-class IT research and consulting firm established in 1997. Backed by two decades of IT research and advisory experience, SoftwareReviews is a leading source of expertise and insight into the enterprise software landscape and client-vendor relationships.
By collecting real data from IT and business professionals, SoftwareReviews' methodology produces the most detailed and authentic insights into the experience of evaluating and purchasing enterprise software.