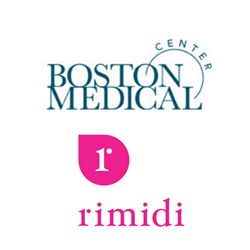 "This project to address maternal and infant morbidity and mortality due to hypertensive disorders in pregnancy is a great example of how technology can support more proactive and preventative management of a condition that is a public health crisis across the US."
BOSTON and ATLANTA (PRWEB) April 23, 2020
Boston Medical Center (BMC) today announced a partnership with Rimidi, a cloud-based software platform that enables a more efficient model of care for patients with chronic conditions, to remotely monitor blood pressure for women experiencing high-risk pregnancies. Healthcare experts in the Department of Obstetrics and Gynecology at BMC, including recent medical school graduates, will be the first to use Rimidi's platform, which has been integrated into the academic medical center's electronic health record, Epic.
"Women who have gestational hypertension or preeclampsia are considered 'high-risk' during and after pregnancies, and can benefit from close monitoring," said Christina Yarrington, MD, FACOG, an obstetrics and gynecology physician and director of labor and delivery at Boston Medical Center. "In the midst of the COVID-19 pandemic, adding the capability to remotely monitor blood pressure in these patients is especially pressing, as we are trying to limit their exposure to healthcare settings."
The team at BMC will use Rimidi's cardiovascular disease platform view, which combines relevant EHR data, with patient-generated blood pressure data from a cellular-connected blood pressure cuff. This allows physicians to manage better outcomes based on actionable, real-time information. According to Yarrington, who is also an assistant professor of obstetrics and gynecology at Boston University School of Medicine, the remote monitoring program will start with a cohort of approximately 60 patients.
"Adverse cardiovascular outcomes like heart attack and stroke—whether pregnancy-related or not—are one of the most preventable causes of mortality in the United States," said Lucienne Ide, MD, PhD, founder and chief health innovator at Rimidi. "This project to address maternal and infant morbidity and mortality due to hypertensive disorders in pregnancy is a great example of how technology can support more proactive and preventative management of a condition that is a public health crisis across the US."
With the risk of COVID-19, healthcare systems are taking extra precautions in treating their patients. The adoption of Rimidi's platform will not only allow physicians at BMC to cut back on fear of exposure by monitoring their patients remotely, but also add in an extra layer of medical support when patients need it most.
To learn more about Boston Medical Center and the steps it's taking during COVID-19 to better monitor patients, including its visitor policy, visit http://www.bmc.org. For the latest news and information about Rimidi and its technology, including its COVID-19 triage and monitoring application, visit http://www.rimidi.com.
About Boston Medical Center
Boston Medical Center is a private, not-for-profit, 514-bed, academic medical center that is the primary teaching affiliate of Boston University School of Medicine. It is the largest and busiest provider of trauma and emergency services in New England. Boston Medical Center offers specialized care for complex health problems and is a leading research institution, receiving more than $97 million in sponsored research funding in fiscal year 2018. It is the 15th largest funding recipient in the U.S. from the National Institutes of Health among independent hospitals. In 1997, BMC founded Boston Medical Center Health Plan, Inc., now one of the top ranked Medicaid MCOs in the country, as a non-profit managed care organization. Boston Medical Center and Boston University School of Medicine are partners in Boston HealthNet – 14 community health centers focused on providing exceptional health care to residents of Boston. For more information, please visit http://www.bmc.org.
About Rimidi
Rimidi is a cloud-based software platform that enables personalized management of health conditions across populations. Created by doctors, Rimidi avoids the disconnect in connected care by combining patient-generated health data with clinical data from the EHR to drive patient-specific clinical insights and actions. The net effect is a better health system with optimized clinical workflows that enable better decisions, better relationships, better outcomes and ultimately a better healthcare system. For more information, visit rimidi.com and follow us on Facebook, Twitter and LinkedIn.
Media Contacts:
Cortney Williams
ARPR, on behalf of Rimidi
(855) 300-8209
cortney@arpr.com
Jazmin Holdway
Communications Associate, Boston Medical Center
(617) 638.6838
Jazmin.Holdway@bmc.org