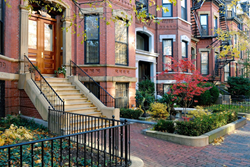 BOSTON (PRWEB) May 14, 2021
New England's largest real estate portal, Boston Pads, has just added a real time feature that allows a user to simultaneously see apartment listings and homes for sale at a similar monthly budget. Now, when the user is viewing a listing for a 3 bedroom apartment in South End, they can scroll down below the apartment listing details and view homes for sale in South End that match their estimated rental spending.
Demetrios Salpoglou, CEO of Boston Pads, states that there has been a growing number of inquiries from clients wanting to know all their potential rent and purchase options instantly without having to go to disparate locations or various websites. He cited this as the key driver to developing this innovative tool. "We're seeing more clients asking us about consolidating data in one location to quickly put the power in their hands. We are also seeing an amazing amount of new buyers since we added this feature. What we're finding is that many people who are typically renters don't realize that they can afford to own a home at a similar budget, and a tool like this helps them visualize that being a homeowner isn't as far out of grasp as they may have thought."
The tool is the first of its kind, making Boston Pads the only real estate portal that will show a user actual live listings of homes for sale that are comparable in terms of rent vs. mortgage payment. It does so by calculating in real time what a monthly mortgage would cost for each listing after a typical down payment, property tax rate and 30 year mortgage rate.
This new feature launch adds to an already growing number of user resources currently being offered on BostonPads.com that helps increase real estate choices. Demetrios added, "Our goal is to provide the most cutting edge resources to everyone involved in the real estate process. We know this tool is going to have a big impact on our renter base, hopefully helping many of them become owners faster and easier than they ever thought possible."