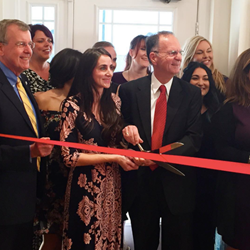 "This is a movement about self care and taking time for your mental and physical well-being. We're very proud of all our clients who take time for themselves regularly. It's a very healthy thing to do." -Gen Obolensky
CLEARWATER, Fla. (PRWEB) July 30, 2019
Botanica Day Spa has been dedicated to the self care movement since its creation in 1995. The Clearwater-based spa is now taking time out to raise awareness on the impacts of stress on health and the deeper meaning behind National Relaxation Day on August 15. To enter their spa day giveaway, click here.
While the sound of a spa day has a nice ring to it, according to leading health experts the health benefits of spa services exist in abundance as well. According to the Mayo Clinic, unchecked stress can lead to headaches, anxiety, high blood pressure, chest pains, fatigue and a myriad of other mental and physical disorders. Massage therapy is clinically proven to be pain relieving and effective at reducing muscle tension and stress. Lesser studied therapies including facials and even pedicures share the same hands-on contact and potential for promoting relaxation and stress relief.
"National Relaxation Day holds a really important message, and yet for some people the mention of a spa day still evokes stock images of women getting a facial in a somewhat meaningless context," says owner Gen Obolenksy, who has been at the helm of the spa for the last 15 years. "This is a movement about self care and taking time for your mental and physical well-being. We're very proud of all our clients who take time for themselves regularly. It's a very healthy thing to do."
Botanica has repeatedly encouraged spa time as an essential component of a regular stress management routine, winning multiple awards through the years for the spa's tranquil environment, therapeutic massage and natural skincare. Through their blog, Botanica educates clients on the wellness mechanics behind services like cupping massage, preventive skincare and infrared therapy. In 2015 Botanica launched the area's only monthly spa membership program with pricing incentives that reward clients who take time for themselves every month.
For National Relaxation Day 2019, Botanica is calling on clients and the local community to share their stress management routines through an online contest portal. Two lucky participants will be chosen to win a Pevonia® skincare basket or a Rejuvenate Spa Day Package (valued at $250) which includes a moor mud body treatment, hot oil and sea salt scrub, Botanica specialty facial and 25-minute custom massage. All participants' answers will be compiled in an upcoming article on natural stress management and the healthy benefits of relaxation
"Mental and physical health really go hand in hand, and we're so excited to get our clients and the community involved in sharing what works for them in managing stress. We hope the outcome is a powerful compilation of helpful information and resources," says Obolensky.
Visit the spa's contest page before August 14th and stay tuned for the winners who will be announced via Botanica's social media on National Relaxation Day, August 15, 2019.
Clients who are new to the spa are always welcomed with a 15% discount on their first service. To learn more or to schedule an appointment, call the spa at 727-441-1411 or visit them online.
ABOUT BOTANICA DAY SPA
Botanica has been recognized as Clearwater's leading day spa for 25 years, specializing in natural treatments for the body, skin and nails. The award-winning spa has been honored by Creative Loafing, CitySearch, Tampa Bay Times and others for exceptional standards in manicures and pedicures, eyebrow shaping, body treatments and therapeutic massage. Botanica's menu of services features cutting edge beauty and wellness treatments with an emphasis on the use of organic and natural product lines. The stunning 4,000 square-foot facility is an oasis of relaxation and tranquility located in downtown Clearwater, Florida, accessible from the Pinellas Trail and just minutes from Clearwater Beach. For more information, please visit http://www.BotanicaDaySpa.com.
MEDIA CONTACT
Corina Froese
corina(at)dandelioncreativeco.com
727-441-1711