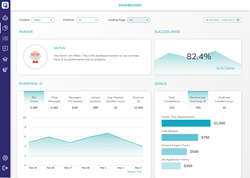 Together with Botco.ai's integrations with email, CRM and other marketing systems, Contextual Chat Marketing brings a level of personalization to conversational marketing that is unprecedented in the industry.
SCOTTSDALE, Ariz. (PRWEB) April 22, 2021
Botco.ai (http://www.botco.ai), the leading HIPAA-compliant conversational marketing solution, launched today version 2.0 of its platform, featuring Contextual Chat Marketing and an advanced analytics dashboard. Contextual Chat Marketing enables marketers to initiate customized conversations with prospects and customers based on how they came to visit the company's website or media properties, while the new analytics dashboard provides deep insights into visitor questions and behaviors. Together with Botco.ai's integrations with email, CRM and other marketing systems, Contextual Chat Marketing brings a level of personalization to conversational marketing that is unprecedented in the industry.
Botco.ai's Contextual Chat Marketing feature tracks the source of visitors to a company's website, Facebook page or other media properties, whether from a paid advertisement, email campaign, or other traffic sources. The feature then enables Botco.ai to customize conversations with visitors based on those referral sources; for example, an ad prompting users to book an appointment will initiate a conversation about the best time and place to schedule it, while a campaign promoting a specific product will provide contextual content about that product's features and benefits, delivering a highly curated or personalized experience. By customizing conversations based on referral sources, marketers have been able to increase desired outcomes manifold and conversion rates tracked in A/B testing by up to 103 percent.
The analytics dashboard gives marketers full visibility into the entire chat experience by identifying recurring questions, providing insights into new user intents and actions, and analyzing chat funnel performance. The dashboard breaks down each flow into custom-defined goals so that marketers can evaluate each visitor's journey. Marketers receive a granular level of details that allows them to analyze and identify drop off rates in each successful funnel and improve copy, flow, and steps leading up to the conversion. These insights help companies make better, more informed product, marketing and customer service decisions.
"Chat is an important part of the brand's overall marketing mix, and being able to kick-off conversations intelligently, based on the visitor's context and how they came to the website, is a real game changer," said Andrea McCauley, Senior Director, Digital Marketing of Massage Envy Franchising.
Massage Envy is the leading provider of massage and skin care services in the U.S. across the Massage Envy franchise network. "Botco.ai allows intelligent conversations with prospects and customers at a scale that would be impossible with live agents, but with a similar, if not better, level of personalization. The program provides an elevated customer experience that fits perfectly with our brand style," added McCauley.
Botco.ai also connects to a company's CRM, email and other marketing systems through direct APIs so that it can converse with visitors based on their previous interactions with a company, including purchase history, the length of their relationship, membership status, and more. Uniting data from across the customer journey enables Botco.ai to deliver a richer and more personalized experience than traditional chatbots, while streamlining the qualification and sales process. Healthcare providers, for instance, can hold personalized discussions based on a patient's medical history, while assuring them that any information they share during the chat experience is highly confidential and HIPAA-compliant.
"Business has always been conversational, and the most effective conversations need to take into account the context and understanding of where the user is coming from," said Rebecca Clyde, CEO of Botco.ai. "Businesses that engage with visitors in the proper context are more likely to convert and establish long lasting relationships with their customers. With this latest release, we now give businesses the tools to do this with contextual chat and a dashboard that provides insightful analytics in the process."
Botco.ai's Contextual chat uses privacy-safe attribution methods that do not rely on any personal identifiers, in accordance with GDPR, CCPA, HIPAA and related privacy laws. For more information, visit http://www.botco.ai.
About Botco.ai
Botco.ai is a HIPPA-compliant, AI-powered marketing chat solution that can be implemented at scale to improve engagement rates. Today, the company offers industry-leading authoring, webchat, and AI machine-learning capabilities to quickly and effectively convert more customers in healthcare, wellness, addiction, behavioral health, physical therapy and senior living centers. Botco.ai's new Integrated Analytics Dashboard provides a comprehensive view of chat campaigns across multiple messaging channels such as web and Facebook Messenger. The API-based interface can be used to transfer leads, transcripts, and data into enterprise sales and marketing automation products like Salesforce, Hubspot, Adobe Marketing Cloud, Zoho as well as leading EHR and scheduling systems. Botco.ai is the recipient of the Arizona Innovation Challenge "Most Outstanding Startup" award and a graduate of Alchemist Accelerator Class XXV, the #1 accelerator for enterprise startups. For more information, visit http://www.botco.ai.
Media Contact
Lauren Tascan
Fluid Group for Botco.ai
lauren @fluidprgroup.com