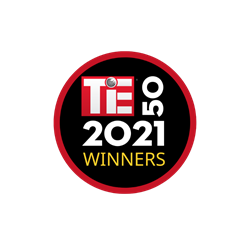 The field of intelligent chat is extremely competitive, but we are the only solution purpose-built to bring the principles of marketing and conversion to customer conversations.
SCOTTSDALE, Ariz. (PRWEB) May 13, 2021
Botco.ai (http://www.botco.ai), the leading HIPAA-compliant conversational marketing solution, is excited to announce that it has been selected as a 2021 TiE50 Winner in the prestigious TiE50 Awards Program. This ten year old awards competition is a program of TiEcon, the world's largest conference for tech entrepreneurs. Botco.ai was recognized for its innovation in using AI technology to drive conversational marketing at scale.
"We are extremely honored to be recognized for our achievements by such a prestigious organization as TiE," said Rebecca Clyde, CEO of Botco.ai. "The field of intelligent chat is extremely competitive, but we are the only solution purpose-built to bring the principles of marketing and conversion to customer conversations. Our explosive growth over the past year and recognitions such as this TiE50 award are a testament to the fact that our approach is working."
"Companies from diverse fields and in various stages made their applications to our prestigious TiE50 showcasing innovation and disruption. In addition to many sponsors for the TiE50 program, we also had in kind sponsors offering a desirable list of perks and benefits apart from the award and recognition. TiE50 continues to partner with Meet the Draper's, a ground-breaking reality show to give an opportunity to select companies to pitch to the show," said Kumar Sripadam, TiE50 Program Chair.
"TiE Silicon Valley is excited to announce TIE50 winners. TIE50 awards is our way of giving visibility to startups and connect them with our sponsors, partners and investors in the TiE Ecosystem" said AGK Karunakaran, President, TiE Silicon Valley.
The TiE50 Awards will be presented virtually to the winners during a ceremony on May 6th. For more information, please go to https://www.tiecon.org/tie50.
About Botco.ai
Botco.ai is a HIPPA-compliant, AI-powered marketing chat solution that can be implemented at scale to improve engagement rates. Today, the company offers industry-leading authoring, webchat, and AI machine-learning capabilities to quickly and effectively convert more customers in healthcare, wellness, addiction, behavioral health, physical therapy and senior living centers. Botco.ai's new Integrated Analytics Dashboard provides a comprehensive view of chat campaigns across multiple messaging channels such as web and Facebook Messenger. The API-based interface can be used to transfer leads, transcripts, and data into enterprise sales and marketing automation products like Salesforce, Hubspot, Adobe Marketing Cloud, Zoho as well as leading EHR and scheduling systems. Botco.ai is the recipient of the Arizona Innovation Challenge "Most Outstanding Startup" award and a graduate of Alchemist Accelerator Class XXV, the #1 accelerator for enterprise startups. For more information, visit http://www.botco.ai.
About TiE50
Now celebrating its tenth year, TiE50 Awards provides a one-of-a-kind showcase for the world's top technology and technology-enabled startups. TiE Silicon Valley's premier annual awards program is keenly contested by thousands of early- to mid-stage startups of all sizes representing a wide range of verticals. Applications are rigorously reviewed by a panel of judges including venture capitalists, angels, successful entrepreneurs, and corporate executives. Since its inception, 84 percent of TiE50 winners and top startups have been funded at a total of over $1 billion. Many of these companies went on to acquisition or IPO with 29 of the exits at over $100 million.
About TiEcon
TiEcon is the world's largest conference for entrepreneurs and intrapreneurs with participation from top technology companies, leading venture capital firms, and global service providers. Delegates range from CEOs of top companies to first-time entrepreneurs as well as corporate executives and investment professionals. TiEcon has been ranked alongside the World Economic Forum, TED, and DEMO as one of the top 10 conferences worldwide for ideas and entrepreneurship by Worth Magazine. TiEcon 2021 is expected to attract more than 10,000 people from across the globe in celebration of the spirit of entrepreneurship. More information: TiEcon.org