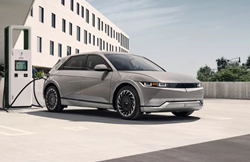 WAUKESHA, Wis. (PRWEB) March 14, 2023
Electric vehicles are the new phase of automotive engineering. It provides a smoother and more efficient driving experience with state-of-the-art electric powertrain technology that can be charged in the comfort of the driver's home. Boucher Hyundai of Waukesha, a popular Hyundai vehicles dealership located in the Waukesha area in Wisconsin, has added the 2023 Hyundai IONIQ 5 to its inventory.
The 2023 Hyundai IONIQ 5 will be available at an MSRP starting at $41,450. It comes with a capable 320 horsepower generating powertrain that can cover approximately 303 miles on a single charge. The 2023 Hyundai IONIQ 5 features a distinctive design with a futuristic exterior body styling with standard 19-inch alloy wheels. Also, the electric SUV's interior has generous space to accommodate up to five adults, including the driver, comfortably. The EV will be available to purchase in rear-wheel-drive or all-wheel-drive as per the customer's choice. A 12.3-inch digital instrument cluster and another 12.3-inch touchscreen infotainment system come standard in the electric SUV. In addition, the occupants can confidently enjoy a safe driving experience with the standard suite of driver-assistance features. Standard safety features include Forward Collision-Avoidance Assist, Highway Driving Assist, Remote Parking Assist, Lane Keeping Assist, etc.
Interested parties are suggested to visit the Boucher Hyundai of Waukesha dealership located at 1583 E. Moreland Boulevard in Waukesha, Wisconsin. Customers also can take advantage of the various vehicle financing options offered by the dealership directly from their official website. For any further information on the 2023 Hyundai IONIQ 5, individuals can get in touch with the dealership at (262) 254-6918.