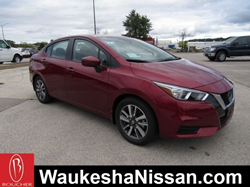 WAUKESHA, Wis. (PRWEB) June 25, 2020
During the month of June, customers can visit the Boucher Nissan of Waukesha dealership to explore the New Vehicle Specials that the dealership is offering. There are currently eight new Nissan models available as part of the New Vehicle Specials this June. The eight vehicles include two 2020 Nissan Versa models, a 2020 Nissan Armada, a 2020 Nissan Murano, a 2020 Nissan Rogue Sport, a 2019 Nissan Pathfinder, a 2019 Nissan Altima and a 2019 Nissan Kicks.
The two 2020 Nissan Versa models on special during the month of June are both 2020 Nissan Versa 1.6 SV models. One of these models is listed for the price of $17,099. This price is well below the vehicle's Manufacturer's Suggested Retail Price, or MSRP, due to the various discounts available, including a special dealership discount. The other 2020 Versa model is currently listed for $17,399, which is also heavily discounted below the vehicle's MSRP of $19,375.
The 2020 Nissan Armada Platinum model available in the New Vehicle Specials this June is listed for $55,895 and includes a dealership discount of $8,195. Additionally, the 2020 Nissan Murano S model on special in June features a dealership discount of $3,736, which results in a final price of $27,099. The 2020 Nissan Rogue Sport S model is currently available for $21,549 and also features a dealership discount equaling $2,346.
The 2019 Nissan Pathfinder SV, the 2019 Nissan Altima 2.5 Platinum and the 2019 Nissan Kicks SR also all feature dealership discounts of between $2,360 and $9,505. The 2019 Pathfinder is available for $27,285, while the 2019 Altima and the 2019 Kicks are available for $28,199 and $18,295 respectively.
Customers who would like to explore the New Vehicle Specials available at Boucher Nissan of Waukesha can contact the dealership directly. The dealership can be reached by phone at 800-504-6619, online at http://www.waukeshanissan.com, or in person at 1451 East Moreland Boulevard in Waukesha, Wisconsin.