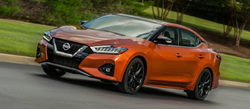 WAUKESHA, Wis. (PRWEB) September 04, 2019
The Nissan Maxima is well-known as the strongest sedan in the Nissan family, and its legendary performance and innovation is about to get an upgrade for the new 2020 model year. Plenty of updates to its body, technology and performance are on the way, and local dealership Boucher Nissan of Waukesha has taken the liberty of giving readers a sneak preview of what's to come on the new model.
The 2020 Nissan Maxima will be available in five (S, SV, SL, SR, and Platinum) distinct trims, their starting prices ranging from $34,250 for the Maxima's base S model to $41,540 for both the SR and Platinum. Financing will be available at Waukesha Nissan upon release, and drivers may apply for credit approval on the dealership's website at their earliest convenience.
New features for the 2020 Maxima's body include a V-motion grille, LED headlights, and Nissan Signature Daytime Running Lights. Inside, drivers will be treated to Rear Door Alert, NissanConnect® infotainment, and compatibility with Apple CarPlay and Android Auto, both of which come standard on higher trims.
Under the hood, the 2020 Nissan Maxima will feature a 300-horsepower, 3.5-liter VQ-series V6 engine, paired with a smooth-shifting Xtronic transmission and independent four-wheel suspension. This latter component will come complete with monotube rear shock absorbers, helping to increase handling in rough weather or in hectic driving conditions.
To top it all off, the upcoming Maxima sedan will offer plenty of high-tech safety innovations as part of the Nissan Safety Shield 360 suite. It'll include such features as Automatic Emergency Braking, Lane Departure Warning, Rear Cross Traffic Alert and many more. Prospective shoppers will be pleased to know that Nissan-specific technologies such as Traffic Sign Recognition and Intelligent Driver Alertness will both come standard on all new 2020 Nissan Maxima trims.
More information on the 2020 Nissan Maxima may be found on the dealership's blog. All members of the public who would like more information on the 2020 Maxima ahead of its release are encouraged to contact Waukesha Nissan, which can be reached over the phone at 800-924-7082 or online at waukeshanissan.com. The dealership is located at 1451 East Moreland Boulevard in Waukesha, Wisconsin.