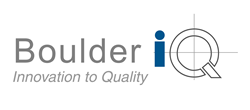 Doubling capacity is part of Boulder iQ's effort to help medical device companies get products to market quickly and efficiently, with a commitment to maintaining a four-day turnaround for most sterilization services.
BOULDER, Colo. (PRWEB) August 14, 2020
Boulder iQ, a contract consulting firm for high-technology and medical products, is doubling its capacity for ethylene oxide (EO) sterilization of medical devices in a commitment to maintain a four-day turnaround for most sterilization services.
The company's Boulder Sterilization division uses ethylene oxide, a safe, effective low-temperature method, to sterilize medical device equipment and accessories from biological contaminants, including those from COVID-19. In addition, Boulder Sterilization uses an abator (catalytic converter) system to mitigate outgassing that is inherent in the EO process. While not required in Colorado, the company has opted to incorporate the abator to underscore its commitment to green operations.
"Perhaps now more than ever, medical device companies need to get products to market quickly and efficiently," says Jim Kasic, Boulder iQ's president and CEO. He cites the fact that with the increased capacity, Boulder Sterilization can accommodate more projects to better serve its clients. "For entrepreneurs, start-ups and established companies that require sterilization of products, the service that Boulder Sterilization offers is quick, efficient, flexible and reliable."
Offering sterilization, regulatory assistance during COVID crisis
Boulder Sterilization process works for healthcare and personal protection equipment (PPE), including N-95 respirators, surgical gowns, and nasal swabs, as well as medical devices and accessories used in COVID-19 testing, treatment, and care. In these times of PPE shortages, respirators, gowns, and swabs need regular cleaning and decontamination for reuse, explains Kasic.
Boulder Sterilization also offers sterile packaging for medical devices sealed in Tyvek pouches, common packaging for medical devices.
Through its regulatory consulting service, Boulder iQ is assisting companies in preparing Emergency Use Authorizations for medical devices and in vitro diagnostics. During a public health emergency, the FDA can use its Emergency Use Authorization authority to allow the use of uncleared or unapproved medical products – or allow for uncleared or unapproved uses of cleared or approved medical products – to diagnose, treat, or prevent serious diseases, such as COVID-19, when certain criteria are met.
Boulder iQ (http://www.boulderiq.com)
Boulder iQ is an expert contract consulting firm offering design engineering, development, and turnkey manufacturing for consumer, high-technology and medical products, and regulatory, clinical and quality compliance services for medical device and in vitro diagnostic companies. Based in Boulder, Colorado, the company is ISO 13485:2016 certified through Boulder BioMed.
The company's Boulder Sterilization division provides ethylene oxide sterilization services. Boulder iQ's Boulder Medical Device Accelerator provides equity investment in start-up companies seeking product development services, expert mentoring and infrastructure support.