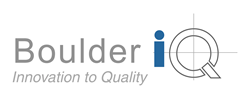 Boulder iQ understands the ever-changing regulatory environments, particularly with clinical evaluation reports.
BOULDER, Colo. (PRWEB) August 29, 2018
Boulder iQ has named Carrie Hetrick, D.D.S., vice president of regulatory and clinical affairs.
Hetrick will lead the consulting firm's regulatory work for the medical device and in-vitro diagnostic (IVD) industries, within the United States and internationally. She brings more than 18 years of expertise in quality management systems and business process improvement/management, complex regulatory submissions, and quality and regulatory compliance consulting to Boulder iQ. Hetrick's experience includes U.S. Food and Drug Administration (FDA) premarket notifications, premarket amendments, OUS regulatory submissions, clinical evaluation reports, clinical studies, regulatory audits and implementation of quality systems. She has helped hundreds of companies navigate the 510(k) and CE Mark clearance and approval processes.
Before joining Boulder iQ, Hetrick held executive-level regulatory positions at publicly held medical device companies as well as small start-up manufacturers. She has a wide range of experience with multiple medtech industries, clients, and products from her position as a senior consultant/trainer for Oriel STAT A MATRIX (Union, New Jersey), and as a senior global regulatory consultant at Emergo Global Consulting, LLC (Austin, Texas).
Hetrick holds a Doctor of Dental Surgery degree from the University of Colorado Health Science Center, and Bachelor of Science degree from Pacific Lutheran University. She currently is pursuing a Master of Science degree in Advanced Biotechnology, concentrating in regulatory science, from Johns Hopkins University.
Business Sweden speaking engagements, Sept. 5 and 6
Hetrick will travel to Sweden in September to present "Strategies for success: The FDA in 2018 – An update and guide to navigating the FDA as a life science, medtech, or digital health company." She will present at a Medicon Village event in Lund Sept. 5, and at the Stockholm Science City seminar Sept. 6. Her presentation will provide an overview of the FDA's regulations, and a regulatory strategy and roadmap for life science, biologic, medical device and digital health companies looking to sell in the United States and prevent costly delays.
Boulder iQ specializes in assisting medical device companies with clearances and approvals for both the United States and European markets. The firm understands the everchanging regulatory environments, explains Hetrick. "Regulatory agencies are focusing more and more on risk and hazard analysis," she says. "Boulder iQ aids companies in navigating the legal and regulatory requirements and standards needed to obtain marketing application approvals and postmarket activities."
Jim Kasic, president and CEO of Boulder iQ, adds that the process of getting medical devices through the 510(k) process and obtaining the CE Mark is more straightforward now than in the past. "However, the new Medical Device Regulation (MDR) 2017/745 in Europe has imposed significantly more scrutiny on the clinical evaluation reports (CERs)," he says. "In fact, to meet the May 26, 2020, transition deadline, manufacturers who sell their devices in the EU will be required to meet the MDR and the new quality system requirements, classification rules, technical documentation, Unique Device Identification (UDI), Postmarket Surveillance (PMS), and Post Clinical Follow-Up (PCFU). This ultimately will create a huge bottleneck in the industry."
About Boulder iQ (http://www.boulderiq.com)
Boulder iQ is an expert contract consulting firm for medical and non-medical product development. Based in Boulder, Colorado, Boulder iQ offers design engineering for consumer and industrial products, and complete quality and regulatory services for the medical device and in-vitro diagnostic (IVD) industries.
(end)