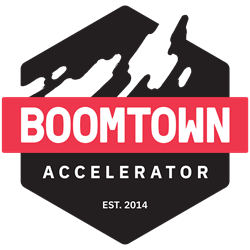 This particular class has made an incredible amount of progress over the past three months and is already demonstrating significant traction
BOULDER, Colo. (PRWEB) November 19, 2018
Boomtown Accelerators unveiled its 11th cohort of startups to graduate from its highly selective accelerator program in front of a sold-out audience at the Boulder Theatre on Thursday night. Over the past four years, Boomtown has graduated 100 startups and 250 founders from its program.
At an earlier investor preview, each founder had the opportunity to pitch his/her company to investors and strategic partners, following 12 weeks of intense business guidance and mentorship. Boomtown's latest Demo Day featured 16 startup founders who shared their innovative solutions to problems in industries ranging from farming to healthcare to transportation.
"At Boomtown, we intentionally seek startups that are early-stage so we can help influence the growth of their businesses through our custom curriculum and mentor community," said Toby Krout, co-founder and executive director of Boomtown. "This particular class has made an incredible amount of progress over the past three months and is already demonstrating significant traction."
Introducing Boomtown's 11th cohort:
Borsetta is an enterprise platform enabling companies to title, authenticate and secure physical assets. Borsetta provides companies with accountability, transparency and brand protection, while validating authenticity for consumers. Borsetta will create a unique nano-ID for validation of hardware before objects are launched into Space.
Breefly is a subscription-based insights reporting platform that delivers business briefs to teams via text, media and data, so they can make smarter and faster decisions wherever they collaborate. Breefly is entering into proof of concepts with enterprise customers including advertising agencies, CPG, media and nonprofits.
Cowboy Cricket Farms specializes in processing crickets as a nutritionally dense food ingredient for consumer product goods, providing humans with a sustainable solution for their protein and iron needs. Over 60 retail locations across 10 states currently carry CCF products and more than 1,000 online orders have been placed.
The Fangage digital autograph platform delivers personalized, autographed memories with real-time authentication. Fans upload pictures for celebrities to autograph live, then download, print and share them on social media. Fangage has 25,000 registrations in its first 10 months, has hosted 15 events, and sent over 2,500 autographs at an average price of $25.
iSensing empowers transportation authorities with sensor data and insights about people and vehicles, for improved public transportation systems and happier citizens. Their product is live in Manchester, Birmingham, London, Madrid, Sao Paulo, Belo Horizonte (Brazil) and Mexico City.
The BuzzBox from OSBeehives is a smart monitoring device that reports when colonies are sick, so labor and treatments can be efficiently deployed. OSBeehives has $160K in revenue with 500 units sold to date, as well as 1,500 app users in over 20 countries with manufacturing and distribution partnerships in North America, Europe and Australia.
Medecipher provides decision support tools to help hospitals improve their patient care and work environments, while reducing operating costs. Customers include two Northwestern Medicine hospitals. Medecipher also has a pilot agreement in place with four SCL Health hospitals in Colorado. In late 2018, they were finalists in the Prime Health Challenge pitch competition and the Ignite Pitch Competition.
Premo is an app that connects realtors and their clients throughout the home purchase process, providing a unified platform for high-quality, consistent communication and client experience. Premo has 10 users, more than 85 "pre-launch pricing" signups, and pilot programs planned with Los Angeles and Denver-based brokerages.
ToMarket is an online platform that helps farmers and chefs build and manage their sales and procurement operations, so local food goes more easily from the farm to the table. ToMarket has facilitated over $200K in gross market value, grossed $350 in monthly revenue from multiple accounts, and grew Farming Partners in three states helping to bring ToMarket to their communities.
Wellian is a voice-controlled health and wellness assistant — compatible with Alexa, Google Home and other voice platforms — that communicates information and motivation to help patients, doctors and caregivers better manage chronic conditions. Pilots are confirmed with Kahn Center for Cardiac Longevity and Youth Cancer Europe.
Through its IoT platform, Xompass takes an existing hardware product and turns it into a smart, connected device. Xompass has $230K in revenue for 2018, and $800K in committed revenue for 2019.
Boomtown is constantly evaluating applications for its flagship accelerator program in Boulder, which includes partnerships with Comcast Labs, COPIC, and UpRamp, part of CableLabs. For more information or to apply for Boomtown's next cohort (running February 25 - May 17, 2019,) please visit http://www.boomtownaccelerator.com/apply/.
About Boomtown
Boomtown supports great people in building great companies, with bespoke accelerators that help startups turn ideas into profitable, sustainable businesses. Boomtown invests in 16 industries and 34 technologies, customizing programs for each company's needs. Founders receive $20K in seed funding, $1.7MM+ in discounts and perks, personalized curriculum, strategic staff support, a compelling and powerful Demo Day pitch, office space and amenities, expert mentors, alumni connections, and exposure to potential customers and funding. For more information, visit http://www.boomtownaccelerators.com.