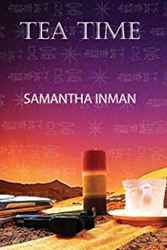 You won't be able to put it down!
STATEN ISLAND, N.Y. (PRWEB) August 26, 2019
A young author has made her smashing debut with the new Young Adult novel, https://www.amazon.com/Tea-Time-Samantha-Inman/dp/1942500556/ref=sr_1_1?crid=DES9QDOCSVLW&keywords=tea+time+samantha+inman&qid=1566824670&s=gateway&sprefix=Tea+Time+Sama%2Caps%2C123&sr=8-1 Tea Time! Author, Samantha Inman, is breaking into the niche of young adult crime fiction with her first novel, a trip into the world of conspiratorial history and crime thriller.
A book of secrets of the past and present, with main character Detective Alena Martin solving a thirty-five year cold case that lands on her desk after a violent encounter left her scarred. Not knowing where to start, she chooses a different perspective altogether, but the case follows her to the ancient city of Alexandria, Egypt when two women go missing. With no time on her side Detective Martin must ask the right questions and save herself in the process or she loses everything in the sound of a gunshot.
"The Dan Brown for younger readers."
The book will be available through print and Ebook at a variety of retailers globally. Author appearances to occur at a later date post-publication, at the discretion of author, publisher, and requesting establishment.
Samantha Inman is a young author looking forward to a long career in writing, having found her love of writing early in life. She always has a piece in the works and loves to express herself in creative ways. With a degree in Theatre and a passion for the arts, Samantha Inman is involved in multiple creative art disciplines including acting and writing. If she is not writing, she is entertaining with a microphone.
http://www.boulevardbooks.org/ Boulevard Books is an educational publishing company for the 21st century. Founded by educator and author Avi Gvili in 2010, it aims to bring to the public the voices of the new century.