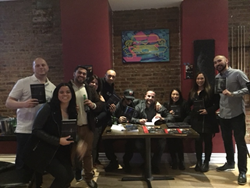 Eric Pikul takes the spoken word poetry scene by storm
Brooklyn NY (PRWEB) July 14, 2018
Eric Pikul, author of "The Road Less Traveled" performed spoken word poetry from his new book at famous New York venues as he continues to promote his unique style of poetry. A sampling of these poetic landmarks follow. Please contact them to request Eric's new brand of Spoken Word.
1. The Nuyorican Cafe-Monday's at 9 PM- 236 East 3rd St. (bet. Avenue B and Avenue C – LES)
New York, NY 10009
(212) 505-8183
http://www.nuyorican.org
2. THE BOWERY POETRY CLUB
308 Bowery
Manhattan, New York 10012
http://www.boweryartsandscience.org/ also every Monday at 9 PM
3. Poets Settlement-Halyards Bar
406 3rd Avenue Bklyn NY 11215-second Thursday of each month
4.The Evil Olive-
"The People's Open Mic" with Featured Artists — Every 2nd Friday of the Month
Doors Open at 7:00pm
198 Union Ave, Brooklyn, New York
Boulevard Books is an educational publishing company for the 21st century. Founded by educator and author Avi Gvili in 2010, it aims to bring to the public the voices of the new century.