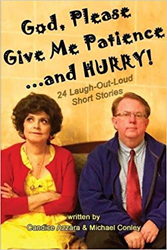 Laugh out loud funny!
New York, NY (PRWEB) September 04, 2018
"The new hit comedy book called "God, Please Give Me Patience…and Hurry!" written by Broadway actress and TV/film classic comedienne Candice Azzara and TV sketch comedy writer Michael Conley was inspired by letter written from Neil Simon to Azzara on closing night of Neil Simon's cerebral comedy play and world premiere called, "Jake's Women" at the Old Globe Theatre," announced publisher Avi Gvili of Boulevard Books.
Azzara recalls, "Neil had cast me in the role of "Karen" along with Felicity Huffman, Stockard Channing, Talia Balsam, Peter Coyote, Joyce Van Patten, Amelia Campbell, and a young Sarah Michelle Gellar. Neil's letter spoke to my being the spiritual leader of the play. I posted the letter on Facebook and Twitter. George Clooney even came to see the play because of his then wife, (Talia)."
"After reading Neil's "thank you" letter again today, I was very moved by his faith in God and I'm sure it (subconsciously) inspired me and my writing partner, Michael Conley, to write our current comedy book of 24 short stories about faith and humor in Hollywood called, "God, Please Give Me Patience…and Hurry!"
Azzara is a Brooklyn born and Sicilian-American comedienne who began her theater career on Broadway starring in "Lovers and Other Strangers" which was written by Renée Taylor & Joseph Bologna and became an Oscar nominated film.
Azzara enjoys 40 years of comedy film fame and starring roles in HOUSE CALLS with Walter Matthau and Art Carney, EASY MONEY with Rodney Dangerfield and Joe Pesci, and FATSO with Dom DeLuise and Anne Bancroft.
Conley is a veteran of variety/comedy sketch writing for Bob Hope at the tender age of 22 (in 1982). He also served as head writer for the American Cancer Society and their tribute award shows honoring legendary comedy director Blake Edwards, a Tribute to Motown Records with Smokey Robinson and Stevie Wonder, and a Tribute to Arista Records and Clive Davis with Whitney Houston.