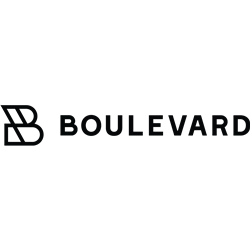 Boulevard is the industry's first comprehensive platform-as-a-service (PaaS) designed specifically to meet the needs of salons, spas, and other appointment-based businesses that help people look and feel their best.
LOS ANGELES (PRWEB) November 04, 2019
Boulevard, the technology company transforming the way premium spas and salons do business, today announced it has raised $11 million in a Series A funding round led by Index Ventures with participation from Bonfire Ventures, Ludlow Ventures, BoxGroup, and Luma Launch. The company plans to use the new funding to grow its team across a variety of departments, including product, engineering, and business development.
Boulevard is the industry's first comprehensive platform-as-a-service (PaaS) designed specifically to meet the needs of salons, spas, and other appointment-based businesses that help people look and feel their best. After years of behind-the-counter and back-office research, Boulevard was built with an intimate understanding of the industry day-to-day. The product streamlines processes like booking and scheduling, inventory management, commissions, payroll, and payments, while allowing businesses to provide a hyper-personalized experience to the delight of clients. Customized reporting and actionable insights help to reduce costs, track performance, and ultimately maximize profits. Boulevard's white-glove support team provides seamless onboarding and migration along with 24/7 availability for ongoing needs.
"Competitors in the space have been trying to shoehorn a product that was built for yoga and pilates studios into the beauty industry, but the two have completely different needs," said Damir Becirovic of Index Ventures. "Boulevard was built specifically for personal care businesses and is a high-tech solution for a high-touch market where no one else comes close."
In the U.S., consumers spend over $200 billion annually on beauty services across 2.5 million establishments*. Within this industry, 3.2 million professionals struggle with common pain points like finding catered booking solutions, streamlining operations while maintaining a personal touch, and receiving personalized support to help with new technologies. By directly addressing these struggles, Boulevard has been quickly adopted by hundreds of industry-leading companies, helping them grow, scale, and manage their businesses more efficiently through its proprietary technology.
Current partners include brands like Chris McMillan the Salon, Kelley Baker Brows, Matthew Morris Salon and Skincare, MèCHE Salon, SEV Laser, Spoke & Weal, and TONI&GUY. After going live with Boulevard, partners have seen the following results within the first 90 days:

16% increase in services booked
18% increase in retail revenue
24% increase in gratuity from clients
81% decrease in no-shows and late cancellations
32% decrease in front desk hours
76% decrease in time spent on the phone
"The beauty services industry is growing at an unprecedented rate, but we found that the leading technology solutions are severely underserving business owners and falling short of consumer expectations," said Boulevard CEO and Co-Founder, Matt Danna. "Our mission is to provide technology that helps personal care businesses become more successful while improving the daily lives of their professionals and clients. Historically, salon and spa software has been made for transactions. But Boulevard was made for people."
"Boulevard makes client interactions more personal by helping us understand guests, preferences, and nuances," said Zak Mascolo, CEO of TONI&GUY USA. "As a forerunner in the hairdressing industry, it's important that the technology we use allows us to continue to provide the superior guest experience that our brand stands for. Boulevard enhances our personal touch through customization, helps deepen our client relationships, and empowers us to operate more efficiently."
Boulevard has seen strong business results and momentum within the past year, processing over $100 million in customer payments and growing the total company headcount from 8 to over 50 full-time employees. As part of this Series A round, Damir Becirovic of Index Ventures and Jim Andelman of Bonfire Ventures will both join the Boulevard Board of Directors, which includes Co-Founders Matt Danna (CEO) and Sean Stavropoulos (CTO).
ABOUT BOULEVARD
Boulevard is transforming business management for premium beauty service brands through their proprietary platform-as-a-service. Developed in collaboration with industry-leading owners and operators, Boulevard is the only management tool built specifically for appointment-based businesses that delivers ease of use with style and sophistication. The company's solution is carefully designed to automate workflows and drive revenue while allowing brands to offer a personalized experience that keeps clients coming back. Current partners include Chris McMillan the Salon, MèCHE Salon, SEV Laser, Spoke & Weal, and TONI&GUY. Founded in 2016 and based in Los Angeles, Boulevard is led by co-founders Matt Danna (CEO) and Sean Stavropoulos (CTO). For more information, visit joinblvd.com or follow us on Twitter, Facebook, and Linkedin. #joinblvd
ABOUT INDEX VENTURES
Index Ventures is a multi-stage venture capital firm investing in technology-enabled companies. With dual headquarters in London and San Francisco, Index is dedicated to supporting the best entrepreneurial teams looking to build market-defining, global businesses. Since its inception in 1996, Index has teamed-up with exceptional entrepreneurs in more than 20 countries, who are using technology to reshape every industry from e-commerce, retail, gaming, mobility, fintech, security, infrastructure, AI — and every other sector in between. Their portfolio companies include Adyen, Datadog, Deliveroo, Discord, Elastic, Farfetch, Glossier, Plaid, Robinhood, Roblox, and Supercell — among many others.
ABOUT BONFIRE VENTURES
Bonfire Ventures is an LA-based seed-stage venture capital firm founded by Jim Andelman and Mark Mullen. The firm invests exclusively in B2B software businesses, and typically leads or co-leads a startup's first priced round. We back extraordinary founders who are seeking to build world-class market leaders, and aspire to serve as those founders' most trusted advisors. Investments made by the firm's founders include The Trade Desk (IPO), Burstly (acquired by Apple), Edgecast (acquired by Verizon), Datapop (acquired by Criteo), MessageLabs (acquired by Symantec), Orbitera and Bitium (each acquired by Google), Rainforest QA, ChowNow, SteelHouse, EmailAge, Invoca, Honk and others. For more information visit http://www.bonfirevc.com.
*U.S. Bureau of Labor Statistics, U.S. Census Bureau