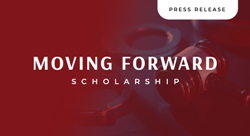 BOUNTIFUL, Utah (PRWEB) February 09, 2023
Collins Rupp, P.C. is pleased to announce that it will be relaunching its Moving Forward Scholarship for the Fall of 2023. Designed to help students overcome criminal convictions and begin a better life, the Moving Forward Scholarship is an important expression of the firm's values and desire to build a better future.
While many scholarship programs will quickly reject applicants with a criminal history, Collins Rupp, P.C. chooses to make scholarships available specifically for students with these hurdles in their pasts. As criminal defense attorneys, the firm's staff has seen firsthand the impact that criminal convictions can have on the lives of many different individuals.
The firm's attorneys believe that people deserve a second chance, particularly when they are pursuing educational opportunities and taking important steps to build a life that will not lead back to criminal activity. The firm recognizes the effort students with convictions put into overcoming their pasts and moving on to a better future.
The first-ever winner of the Moving Forward Scholarship for Spring 2023 was Aime Clarice Muntz, a Psychology major at Idaho State University. Due to the prevalence of violence and drugs in her home while she was growing up, Ms. Muntz turned to substances herself and faced numerous consequences as a result. Fourteen years clear, Aime is pursuing a degree in psychology so that she can help other victims of childhood abuse and others with substance use disorders.
Applicants for the Moving Forward Scholarship are asked to respond to the prompt, "What have you learned about the importance of moving forward? How will your personal experience help you to assist others in improving themselves and bettering their lives? In your essay, please include which convictions you are moving forward from." Interested students may view the full list of requirements and apply by visiting: https://www.collinsrupp.law/scholarship
About Collins Rupp, P.C.
Collins Rupp, P.C. is a criminal defense law firm located in Bountiful, Utah. The firm provides a host of criminal defense services, including help with expungements, probation violations, and pretrial release. Criminal defense services are offered to those accused of a wide array of crimes, from simple DUIs to sex offenses and violent crimes.
To learn more about Collins Rupp, P.C. or to contact the attorneys, please visit: https://www.collinsrupp.law/