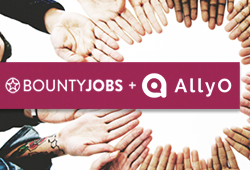 "Their passion to consistently innovate and integrate across clients' existing tech stacks correlates well with the BountyJobs mindset of seamless, technologically advanced talent acquisition solutions."
AUSTIN, Texas (PRWEB) April 11, 2019
BountyJobs, Inc., leading provider of third-party recruiting platform for collaboration between employers and search firms with over $2 billion in placement fees to recruiters and the world's largest recruiter marketplace, today announced a strategic partnership with AllyO, the technology company renowned for its end-to-end AI recruiting software solution.
This strategic relationship with AllyO is the latest in the fast-growing BountyJobs partner network, seeing 500% growth in 2018 and resulting in the largest partner network of any recruitment marketplace. This network connects innovative technology providers focused on improving the way companies recruit, attract, and retain talent. This mix of partners has been hand-selected to help support the key constituents of the two-sided BountyJobs Marketplace; employers and recruiting agencies. The BountyJobs solution can be integrated within any ATS and values the relationships and expertise that partner agencies bring to the table.
AllyO makes recruiting delightful and efficient for everyone involved: job candidates, hiring managers, and recruiters. The award-winning AllyO platform includes an intelligent digital assistant ("AllyO") that engages and converses naturally with candidates via text messaging and webchat. AllyO also fully automates candidate screening and the onerous task of scheduling interviews. Other hallmarks of AllyO include rapid implementation, ease-of-use, and integration with several leading ATS platforms. With AllyO, enterprise employers and staffing firms can focus on what's most important: delivering a contemporary employer brand experience while hiring and retaining qualified talent.
"The suite of tools offered by AllyO, giving recruiters a true end-to-end AI solution, really sets them apart from the pack," said Stacey Steiger, Vice President of Product and Marketing at BountyJobs. "Their passion to consistently innovate and integrate across clients' existing tech stacks correlates well with the BountyJobs mindset of seamless, technologically advanced talent acquisition solutions."
David Bernstein, Head of Partnerships for AllyO, shared, "We recognize the challenges that both enterprise employers and talent suppliers face when it comes to engaging with talent and filling positions efficiently. AllyO is thrilled to partner with BountyJobs and supply added value by providing customers access to BountyJobs' network of staffing agencies; increasing the flow of candidates through a single business agreement."
Attendees of the ERE Recruiting Conference will have the opportunity to experience both solutions April 22-24 in San Diego, Calif. Visit BountyJobs at Booth No. 203 and AllyO at Booth No. 519.
About AllyO
AllyO is an AI technology company with a simple mission – make recruiting delightful and efficient for everyone. It addresses the traditional inefficiencies of lost applicants and conversions due to poor candidate experience, the high cost of recruiting due to the overburdening of administrative tasks on hiring teams, and the lack of visibility and control for HR leadership. It utilizes deeply conversational AI to fully automate an end-to-end recruiting workflow by intelligently engaging via texting over mobile and web. It is used by Fortune 500 enterprises that have experienced a 2-6X increase in applicant capture and conversion rate, 91 percent application completion rate, and over 50 percent reduction in cost and time to hire.
AllyO is backed by leading investors such as Gradient Ventures (Google's AI fund), Randstad Innovation Fund, Bain Capital Ventures, and Cervin Ventures. AllyO is headquartered in Mountain View, California. For additional information, please visit us at http://www.allyo.com, LinkedIn or Twitter.
About BountyJobs
Sometimes sourcing talent for business-critical positions requires a little help. Our web-based platform features a marketplace of over 10,000 highly-qualified agencies and a performance-based matching algorithm that helps hiring teams of all sizes find and engage the recruiters for each of their roles. All this inside our simple yet effective platform designed to keep you in control of the entire recruitment process. Help makes hiring happier. Learn more at http://www.bountyjobs.com.