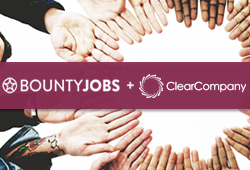 "With more job openings than there are candidates, finding new avenues to source talent has become even more important."
AUSTIN, Texas (PRWEB) January 24, 2019
BountyJobs, Inc., leading provider of third-party recruiting platform for collaboration between employers and search firms with over $1.6 billion in placement fees to recruiters and the world's largest recruiter marketplace, today announced a strategic partnership with talent management software provider, ClearCompany.
This strategic relationship with ClearCompany is the latest in the fast-growing BountyJobs partner network, seeing 500% growth in 2018 and resulting in the largest partner network of any recruitment marketplace. This network connects innovative technology providers focused on improving the way companies recruit, attract and retain talent. This mix of partners has been hand-selected to help support the key constituents of the 2-sided BountyJobs Marketplace; employers and recruiting agencies. The BountyJobs solution can be integrated within any ATS and values the relationships and expertise that partner agencies bring to the table.
ClearCompany's complete talent management platform helps their thousands of clients hire, retain and engage more top talent through best-in-class software powered by an industry-leading methodology. To drive Talent Success throughout the employee lifecycle, ClearCompany brings each client's unique mission, goals, and roles into every phase of the candidate and employee experience. This connected strategy helps their clients leverage the skills and competencies of top talent in their recruiting efforts to attract and hire more A Players.
"In this fast-paced employment landscape, employers are juggling a myriad of tasks at any given time," said Stacey Steiger, Vice President of Product and Marketing at BountyJobs. "ClearCompany's talent management platform solution supports critical tent poles from recruiting to performance management and retaining those key employees which in turn supports achieving business goals."
"In this current job market, finding new talent has become increasingly challenging," said Brian Campbell, Chief Revenue Officer at ClearCompany. "With more job openings than there are candidates, finding new avenues to source talent has become even more important. By partnering with BountyJobs we are helping our clients extend their recruiting reach to find the A players that will help drive continued success."
The new relationship, which marries data-driven hiring solutions and traditional talent acquisition, creates an innovative approach for employers when making critical hires.
About ClearCompany
For more than a decade, ClearCompany has helped companies identify, hire and engage hundreds of thousands of A players from among millions of applicants. We designed and built an organic, unified platform to deliver better hiring experiences, seamless onboarding, company-wide goal alignment and performance management, all driven by best practices. https://www.clearcompany.com.
About BountyJobs
Sometimes sourcing talent for business-critical positions requires a little help. Our web-based platform features a marketplace of over 10,000 highly-qualified agencies and a performance-based matching algorithm that helps hiring teams of all sizes find and engage the recruiters for each of their roles. All this inside our simple yet effective platform designed to keep you in control of the entire recruitment process. Help makes hiring happier. Learn more at http://www.bountyjobs.com.