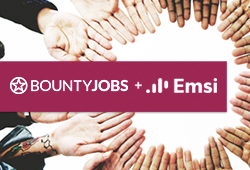 Supplying solid data that supports critical decisions within the employer's talent acquisition strategy is at the center of BountyJobs as it is with Emsi.
AUSTIN, Texas (PRWEB) June 25, 2020
BountyJobs, Inc., a leading provider of a third-party recruiting platform for collaboration between employers and search firms with over $2 billion in placement fees to recruiters and the world's largest recruiter marketplace, today announced a strategic partnership with labor market data platform, Emsi.
This strategic relationship with Emsi is the latest in the fast-growing BountyJobs partner network, seeing 500% growth in 2018 and resulting in the largest partner network of any recruitment marketplace. This network connects innovative technology providers focused on improving the way companies recruit, attract and retain talent. This mix of partners has been hand-selected to help support the key constituents of the two-sided BountyJobs Marketplace; employers and recruiting agencies. The BountyJobs solution can be integrated within any ATS and values the relationships and expertise that partner agencies bring to the table.
Emsi is a leading provider of labor market analytics. Founded in 2001, Emsi's software and APIs help companies build informed talent strategies with billions of data points pulled from government sources, professional profiles, and job postings. Emsi believes in a transparent, responsible approach to data. Data is pulled from multiple sources, deduplicated, and meticulously documented. The goal is for customers to become trusted advisors to their clients and within their own companies.
"Emsi's mission of connecting job candidates, employers, and educators very closely aligns with the core sentiment at BountyJobs,", said Stacey Steiger, Vice President of Product and Marketing at BountyJobs. "Supplying solid data that supports critical decisions within the employer's talent acquisition strategy is at the center of BountyJobs as it is with Emsi."
"We're excited to work with BountyJobs, a leader in the staffing, recruiting, and VMS space. Employers partner with BountyJobs to be more strategic in their approach to staffing and recruiting. The same is true for us," said Bruce Evans, Executive Vice President of Enterprise and Staffing at Emsi.. "At Emsi, we strive to inform recruitment, HR, and staffing professionals by providing easy access to the best labor market data available. Together, we can continue helping employers make better decisions, with better data."
The new relationship, which marries data-driven hiring solutions and traditional talent acquisition, creates an innovative approach for employers when making critical hires.
About Emsi
Emsi is a one-stop shop for labor market data, helping staffing firms and talent acquisition professionals find and recruit top performing talent. Our user-friendly tools are packed with compensation and competition data, skills, demographics, and more—making it easy for you to make talent decisions in record time. Learn more at https://www.economicmodeling.com.
About BountyJobs
Sometimes sourcing talent for business-critical positions requires a little help. Our web-based platform features a marketplace of over 10,000 highly-qualified agencies and a performance-based matching algorithm that helps hiring teams of all sizes find and engage the recruiters for each of their roles. All this inside our simple yet effective platform designed to keep you in control of the entire recruitment process. Help makes hiring happier. Learn more at http://www.bountyjobs.com.