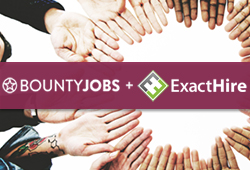 "Our partnership with BountyJobs offers ExactHire clients a streamlined approach to engaging with recruiters and sourcing exceptional candidates."
AUSTIN, Texas (PRWEB) April 16, 2019
BountyJobs, Inc., leading provider of third-party recruiting platform for collaboration between employers and search firms with over $2 billion in placement fees to recruiters and the world's largest recruiter marketplace, today announced a strategic partnership with applicant tracking and employee onboarding platform, ExactHire.
This strategic relationship with ExactHire is the latest in the fast growing BountyJobs partner network, seeing 500% growth in 2018 and resulting in the largest partner network of any recruitment marketplace. This network connects innovative technology providers focused on improving the way companies recruit, attract and retain talent. This mix of partners has been hand-selected to help support the key constituents of the 2-sided BountyJobs Marketplace; employers and recruiting agencies. The BountyJobs solution can be integrated within any ATS and values the relationships and expertise that partner agencies bring to the table.
ExactHire helps businesses improve HR outcomes with integrated applicant tracking and employee onboarding platforms. Tools for automated job posts, applicant management, and custom reporting dovetail with a platform that eliminates paperwork and task redundancy for employers and new hires alike. And now, through ExactHire's partnership with BountyJobs, clients can extend the candidate search beyond traditional job boards with convenient access to a network of over 10,000 third-party recruiters. The result is a fully optimized hiring and onboarding process that produces better applicants and enhances the employee experience.
"The recruiting, candidate assessment, and employee onboarding software offered by ExactHire is a scalable yet robust platform for SMB and mid-size organizations," said Jerry Aubin, CEO at BountyJobs. "This cloud-based resource optimizes HR processes into a simple solution for both hiring and succession planning."
"We are always looking to improve candidate sourcing for our clients, and we realize that sometimes using a third-party recruiter is necessary," said Harlan Schafir, Co-Founder and Chief Visionary Officer at ExactHire. "Our partnership with BountyJobs offers ExactHire clients a streamlined approach to engaging with recruiters and sourcing exceptional candidates. We're excited about the partnership for ExactHire, but more so for our current and future clients. This is a valuable addition to our services. It differentiates us from other HR software providers."
The new relationship, which marries data-driven hiring solutions and traditional talent acquisition, creates an innovative approach for employers when making critical hires.
About ExactHire
Founded in 2007, ExactHire is a software company that develops and supports solutions for applicant tracking and employee onboarding. It seeks to help organizations improve HR outcomes by transforming manual, paper-based processes into automated, digital workflows. Learn more at http://www.exacthire.com.
About BountyJobs
Sometimes sourcing talent for business-critical positions requires a little help. Our web-based platform features a marketplace of over 10,000 highly-qualified agencies and a performance-based matching algorithm that helps hiring teams of all sizes find and engage the recruiters for each of their roles. All this inside our simple yet effective platform designed to keep you in control of the entire recruitment process. Help makes hiring happier. Learn more at http://www.bountyjobs.com.