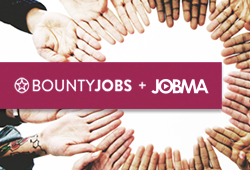 Leveraging innovative solutions to allow talent acquisition professionals to focus on the human part of recruiting is core to the BountyJobs mission.
AUSTIN, Texas (PRWEB) August 21, 2019
BountyJobs, Inc., the leading provider of third-party recruiting platform for collaboration between employers and search firms with over $2 billion in placement fees to recruiters and the world's largest recruiter marketplace, today announced a strategic partnership with video interviewing technology platform, Jobma.
This strategic relationship with Jobma is the latest in the fast-growing BountyJobs partner network, seeing 500% growth in 2018 and resulting in the largest partner network of any recruitment marketplace. This network connects innovative technology providers focused on improving the way companies recruit, attract and retain talent. This mix of partners has been hand-selected to help support the key constituents of the 2-sided BountyJobs Marketplace; employers and recruiting agencies. The BountyJobs solution can be integrated within any ATS and values the relationships and expertise that partner agencies bring to the table.
Jobma's cloud-based digital interviewing platform enables the world's leading companies to deliver personalized candidate experiences to every job seeker, resulting in quality hires and faster fills. The goal is to enable recruitment teams to seamlessly schedule, review, and share one-way and live video interviews without having to leave their recruiting platform. In turn, hiring managers will appreciate the amount of great insight they gain from these video interviews so they can make more informed hiring decisions. The platform is used in 20+ countries and in 13+ different languages.
"The video interviewing platform built by Jobma streamlines the hiring process by harnessing the latest technology available in talent acquisition," said Stacey Steiger, Vice President of Product and Marketing at BountyJobs. "Leveraging innovative solutions to allow talent acquisition professionals to focus on the human part of recruiting is core to the BountyJobs mission."
"We are excited to partner with BountyJobs. This partnership will open new possibilities for our common customers and expresses our shared goal of empowering modern recruiting teams with cutting edge technologies helping them hire faster, better, for less." – Krishna Kant, Head of Global Business Operations
The new relationship, which marries data-driven hiring solutions and traditional talent acquisition, creates an innovative approach for employers when making critical hires.
About Jobma
Job, a silicon valley startup, is disrupting the way companies find and hire talent. With $1 per interview pricing and over 400 clients across 5 continents, Jobma has become the platform of choice for businesses both small and large. For more information about Job, set up a free demo at http://www.jobma.com.
About BountyJobs
Sometimes sourcing talent for business-critical positions requires a little help. Our web-based platform features a marketplace of over 10,000 highly-qualified agencies and a performance-based matching algorithm that helps hiring teams of all sizes find and engage the recruiters for each of their roles. All this inside our simple yet effective platform designed to keep you in control of the entire recruitment process. Help makes hiring happier. Learn more at http://www.bountyjobs.com.