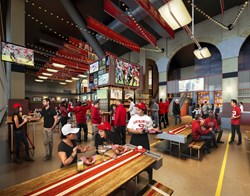 "When I was presented the opportunity to partner with Levi's® Stadium, I knew I wanted to create a versatile restaurant that catered to the dynamic Silicon Valley community, and one that would allow me to throw the ultimate pregame experience."
Santa Clara, CA (PRWEB) December 06, 2013
Chef Michael Mina, one of the country's greatest culinary leaders, is pleased to announce a partnership with the new Levi's® Stadium in Santa Clara, CA. As a unique evolution of his award-winning, signature steakhouse Bourbon Steak, Bourbon Steak & Pub will be a multi-level, high-end steakhouse and pub, debuting in August 2014, when the gates to the new stadium open for the season.
Known for his innovative approach to modern American cuisine and for offering the highest standards of design and service, Michael Mina conceptualized the Bourbon Steak & Pub brand specifically for Levi's® Stadium. Open year-round, the new state-of-the-art restaurant will offer culinary theatre through an open kitchen design featuring a wood-burning grill, a seafood action station, and a one-of-a-kind 13-foot tall, fully rotating rotisserie. The showstopper will be the procession of several seafood mega-pots delivered to their front-row boil stations via a ceiling mounted gantry track, an industry first. Whimsical plays on pub-style dishes, such as the Peanut Butter Crunch Burger and Bacon-wrapped Wagyu Dog, will be joined by Bourbon Steak signatures including Dry Aged Brandt Farms steaks, the freshest local seafood, and innovative vegetable sides from famed South Bay farms.
At 49ers home games, Bourbon Steak & Pub will transform into Michael Mina's Tailgate, a bold new membership-only experience tailor-made for 49ers season ticket holders. Inspired by Mina's elaborate themed tailgate parties he has thrown with 49ers fans for more than two decades, Michael Mina's Tailgate will offer the most exciting and exclusive tailgate experience in all of sports.
Designed for football and food aficionados, membership will provide access to an upscale, all-inclusive game-themed menu featuring both Bay Area favorites and ingredients from the visiting teams' region, with an accompanying beverage menu including a signature game-themed cocktail, prepared by Chef Michael Mina. For example, at a 49ers versus Giants matchup, tailgaters might see a menu of "Meatball Parmesan" hoagies, whole fried Castroville artichokes with roasted garlic aioli, Devil's Gulch Ranch Porchetta spit-roasted and basted in wild herbs, and a shellfish station of East and West coast favorites like Half Moon Bay Dungeness crab legs, Maine lobster, and peel-and-eat shrimp. In addition to pregame and game-time action screened on 70 HDTVs, members also have the opportunity to compete against friends and experts in a custom-designed fantasy sports and entertainment contest with exclusive prizes including dinner with Michael Mina or prominent 49ers Alumni.
"When I was presented the opportunity to partner with Levi's® Stadium, I knew I wanted to create a versatile restaurant that catered to the dynamic Silicon Valley community, and one that would allow me to throw the ultimate pregame experience for fellow 49ers Faithful," explains Chef Michael Mina, a 22-year 49ers season ticket holder. 49ers Chief Executive Officer, Jed York, adds, "We immediately thought of Chef Michael Mina to anchor the new Levi's® Stadium. He is a huge 49ers fan, one of the Bay Area's foremost chefs, and he knows how to tailgate like no other. Michael Mina's Tailgate at Bourbon Steak & Pub will provide an unparalleled gameday experience for our fans."
Located on the ground floor of Levi's® Stadium at 4900 Marie P. DeBartolo Way, Santa Clara, Bourbon Steak & Pub will welcome Bay Area diners seven days a week, year-round, with Bourbon Pub open for lunch and dinner, and Bourbon Steak open for dinner only. Additional details on Bourbon Steak & Pub's design and menu will be announced in 2014. To stay in the know, visit http://www.BourbonSteakandPub.com.
On 49ers home gamedays, Bourbon Steak & Pub will be home to the members-only Michael Mina's Tailgate experience. For more information on membership and year-round benefits, please visit http://www.michaelminastailgate.com or call 415-GO49ERS.
---
ABOUT MINA GROUP
Mina Group Inc. is a San Francisco-based restaurant management company specializing in creating and operating upscale, innovative restaurant concepts. Mina Group is led by Chef/Owner Michael Mina whose accolades include James Beard Foundation "Who's Who of Food and Beverage" inductee, Bon Appétit Chef of the Year, Food Arts Silver Spoon Award Winner, San Francisco Magazine Chef of the Year, and International Food and Beverage Forum's Restaurateur of the Year. Operating since 2002, Mina Group currently operates 18 restaurant properties including MICHAEL MINA in San Francisco (Esquire Magazine's Restaurant of the Year 2011); BOURBON STEAK and CLOCK BAR at The Westin St. Francis on Union Square in San Francisco; RN74 at Millennium Tower in San Francisco and RN74 at the Joshua Green Building in Seattle; STRIPSTEAK at Mandalay Bay in Las Vegas; MICHAEL MINA Bellagio at Bellagio in Las Vegas; AMERICAN FISH at City Center in Las Vegas and The Handle Bar in Jackson Hole at the Four Seasons Resort. For a complete list of restaurants please visit http://michaelmina.net.
ABOUT LEVI'S® STADIUM
Levi's® Stadium will not only be the new home to the San Francisco 49ers, but it will also serve as the world's best sports and entertainment venue. It was designed by HNTB and is being built by Turner/Devcon for the Santa Clara Stadium Authority. The $1.3 billion venue will have 1.85 million square feet, seat approximately 69,000 and will feature 165 luxury suites and 8,500 club seats. It was designed to be a multi-purpose facility with the flexibility to host a wide range of events, including domestic and international soccer, college football, motocross, concerts and various civic events, and will be expandable for major events such as the Super Bowl. For more information, go to http://www.levisstadium.com/.